The State of Dentistry Report 2019: The results are in! We've all read the doom and gloom about dentistry in the UK: a growing recruitment crisis for NHS dentists, increasing hours for falling pay, dentists struggling with stress and burnout, and patients in some regions having to wait months to book appointments for routine dental work.
To download the full White Paper report: A time to smile, simply click here.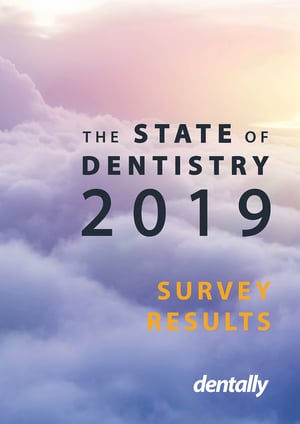 The survey which we commissioned, involved 125 dental practitioners across the country, from experienced practice owners running established multi-site practices to new owners in the early years of growing their business.
And among the negativity we have all read there are still beacons of hope. A large percentage of dentists we surveyed reported that they believe dentistry to be a fulfilling career which offers positive challenges. For instance; 82% of dentists we surveyed believe that their career gives them the chance to do challenging and interesting work. It was also clear that new ways of working are helping dentists balance work and life more effectively with an 82% of our respondents reporting that using technology makes it easier to deliver quality patient care.
At Dentally, we believe understanding the views, challenges, and mood of practice owners is vital to understanding the future of dentistry. They bear the commercial burden that allows new dentists to train and practise, and fund the training that upholds standards of excellence in the profession. Practice owners provide the foundations of the industry, creating jobs and driving investment and innovation. Their outlook informs their attitudes and behaviours which has a huge impact on the shape of the industry.
The results highlighted many challenges, but also offered genuine reasons for optimism. One thing is clear: dentistry is changing, and delivering high quality care for patients as well as improved morale among dentists relies on those within the industry adapting to these changes.
To download the full report click here.
We are keen to hear your views and feedback on the survey, so please email us your thoughts: hello@dentally.co