Dentally is the market leading cloud solution for faster, simpler dental practice management. But what does this mean?
For years dentists have been confined to clunky, expensive servers and filing cabinets full of paperwork, but with patients and dental staff now more likely 'to shop around' for a practice that works for them, the industry is calling for something more streamlined.
Our cloud-enabled software trusted by thousands of dental practitioners worldwide, enables your team to work securely from anywhere with just Google Chrome – no need for any expensive or high-tech IT equipment!
With innovative tools constantly evolving designed to aid NHS Northern Ireland, private, single site or multi-site practices in the way they manage their practice, Dentally helps you to prioritise patient care whilst taking the stress out of daily practice life.
A solution now and for the future
Cloud technology has proven transformative for dentists, allowing them a greater level of flexibility when it comes to maximising practice potential. Eliminating barriers such as timely admin with powerful automation tools, Dentally allows you and your team to focus more on how you can grow and scale your practice – whilst your software helps you keep on top of the day-today.
Future-proofing your practice with a digital, cost-efficient solution can also help ensure profitability and scaling both now and for the future, something to bare in mind if you're looking expand into new sites or sell in future.
More time to do dentistry
At Dentally, we know that you didn't get into dentistry to do paperwork. That's why we've developed software that empowers you to maintain ownership of the way you manage your practice but frees up your time for more of what matters, patient care.
From eliminating the need for paper forms with Dentally Portal to reducing phone calls with an Online Booking system, build a reputation for giving patients the experience they deserve from the very first touchpoint – and allow them to shout about it with a feedback solution that integrates with Dentally effortlessly.
Onboarding that works for you
However your practice currently operates, the Dentally team is committed to making your transition to the cloud as seamless as possible, whilst minimising disruption and alleviating any potential stressors your team may have. To learn more about our staged onboarding approach, you can read more about it here.
Once you get started with Dentally, the support doesn't stop there. With our range of resources and access to our customer success programme, Elevate, you can feel confident that your whole team will be getting the most out of your software – whether you're welcoming someone new to your team or introducing your team to the benefits of cloud for the first time. But don't just take our word for it, here's how some of our customers found the transition from paper to Dentally: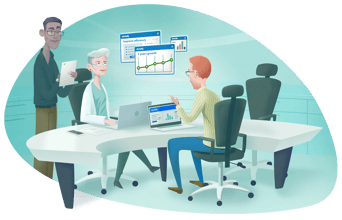 'All members of staff at Blackley Dental Surgery were able to get the hang of it after just three weeks of use. Even one of our nurses who has been paper-based for 40 years, picked it up and she doesn't even use a computer at home!' - Dr Sun Ku, Blackley Dental Surgery
'The key benefits for us are the fact that is cloud-based so we can work remotely, it is paperless - which for us is important as we want to reduce our environmental impact. The ease of patient communication in the fast-paced modern world - a lot of people like. People can cancel and rebook appointments at 9 pm on a Sunday evening, that has been perfect for us. Dentally does the heavy lifting of the administrative work - it provides us with more time to be more human with our patients.' - Carl Dunstan, The Campbell Clinic
'In previous practices, I often lost count of the times servers had gone down and we would have had to wait for over two hours for the system to reboot, this is not something we now worry about at Springfield Road Dental Practice, thanks to the cloud-based solution, Dentally.' - Dr Unity O'Neill, Springfield Road Dental Practice
Discover how cloud technology can elevate your practice by getting in touch with our team, book a call with us today.