We are all dealing with the increased costs of living, especially for fuel, energy and food. Our TV news channels and newspapers are filled with information from politicians and consumer advisors - with advice to tighten our belts, money saving suggestions and how to use our utilities more efficiently.
There are implications for dental practices who have to deal with the higher utility bills, balancing the need to operate more efficiently and retain high levels of clinical care to patients; while also trying to recruit staff who will naturally be looking for higher wages. And of course the increased cost of the living crisis will impact patients, as they navigate the rising costs of everyday life and wonder whether their disposable income should be used to prioritise their oral health or indeed be allocated elsewhere.
These combined factors have all contributed to more pressure and stress on dental practice owners, who, now more than ever need, to look at the tools they use to run their business to leverage every opportunity they have and address any gaps.
Time to review your costs
We may all think to look at our energy suppliers and review our contracts - but it may not naturally spring to mind to take a look at your dental practice management software supplier.
Cloud technology has proven to be transformative for dentistry in recent times, systems such as Dentally have helped dental practices to work more effectively, stay connected to patients all whilst saving valuable time and money. It is worth taking a closer look to ensure the system you use is working for you and not against you!
As you may know traditional practice management software is expensive to run, with high specification IT requirements; and then complicated processes, costly updates, repairs and ongoing maintenance fees. But with cloud enabled software like Dentally, you can wave goodbye to those unnecessary tasks and costs.
Money saving toolkit
Our cloud enabled software is a great way of saving money - think of it as your money saving toolkit! Equipped with features to save time on admin, keep your appointment book full, run your patient communications to keep patients updated and ensure oral health is prioritised and generally streamline your everyday workflows. It does so without the costs we have all come to expect from some of the other practice management software available on the market.
Often practice management software can come with bulky, expensive hardware and servers. The beauty of a cloud dental system like Dentally, is that all you need is an internet connection, access to Google Chrome, and you can quite simply Chrome and Go.
Just requiring an internet connection also means that you do not need to invest in any special hardware or high spec operating systems - you won't need an expensive PC to run the software. Maintenance, repairs and upkeep of the cloud won't cost you a single dollar more than your internet connection maintenance either.
The burden of time consuming IT is no more. Automatic backups happen periodically throughout the day using the advanced automated procedures within Dentally - you never have to worry again about rotating data tapes or updating hardware.
Small, ultra frequent system updates enable Dentally to steadily improve the functionality and innovative progression of the software. Not only this but, you will never face the shock of major software changes overnight that could lead to user errors and costly mistakes the following day. Automatic back ups means your data is always secure. No restarts, no confusion and no fuss.
A fresh approach
Switching to cloud-based software not only saves you money on IT but also provides your practice with versatility and flexibility so you and your practice staff can work in a more agile way. Cloud technology used by the team at Dentally is constantly evolving and integrating into every aspect of our lives from our home to work - now you too can use its power to take a fresh approach to your practice management.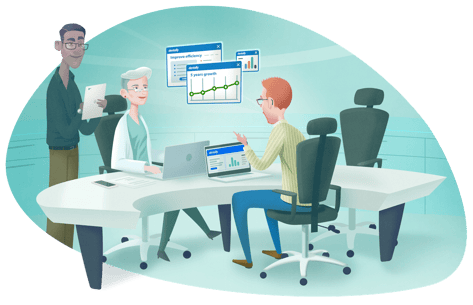 Dentally is feature rich with tools that have been designed in collaboration with dentists, we listen to your feedback and build software that allows you to manage your patients and practice, we look at all aspects from clerical to clinical - our ethos is about making dentists lives easier, now and in the future.
We also run a dedicated customer success programme, Elevate, that provides an objective perspective and can help you operate more effectively from reducing your short notice cancellations to improving your recalls - we help you identify and close the gaps so you can optimise your revenue. Read more.
Oral health is a priority
In recent years COVID-19 and a number of other factors has contributed in putting oral health at an all time low, and this has huge repercussions for not just dental health but also systemic health.
Dentally provides you with a way of communicating with your patients, keeping them informed and up to date - ensuring that their oral health is a priority and that it shouldn't be compromised. Dentally helps you and your team take care of your community of patients, we provide you with more time to do dentistry and deliver care - and less time dealing with the costs and burden of IT.
To find out more about how we can streamline your business, save you time, reduce your expenditure and remove the burden of the day to day aspects of running a successful business, explore our website dentally.com or book a call with us today.