Dentally dedicates time to ensuring that your practice excels - we work with you, listening to feedback and updating features to provide you with the best cloud-based practice management software.
We want to focus on helping you make the best out of our software. It is easy for us to tell you why Dentally can help your practice. But, if you don't fully know how to utilise it and implement those features into the everyday running of the business, it can be hard to get the best out of Dentally.
Why Elevate?
That's where our customer success programme comes in. Dentally Elevate can help your practice reach new heights - Improve your understanding of the software and its features - helping you streamline practice processes and find a better work-life balance, making more time to do dentistry.
Once you have been assigned your consultant to help you on your journey with Dentally, there are several things you can learn through the Elevate program. Today we will focus on automating your patient communications.
Automated Patient Comms
The main aim of Elevate is to help you help yourself and your practice. To learn the ins and outs of the software and use them to make your life as a busy dental practitioner easier.
We want to help you understand how automating your patient communications can free up your team's time, providing them with more time to focus on the bits that matter - customer service and patient care.
Your Elevate consultant will talk you through the features in Dentally that can help you automate your communications.
Two way SMS
During a busy day - sending appointment reminders via SMS can be time-consuming for your reception team and patients. Time is money, and we want to help make sure you have enough time in your day to benefit your business. Dentally allows you to send, receive and reply to SMS and email messages. Create customised templates and speed up your communication workflows at every point of your patient's journey - whether you're sending out recalls or upcoming appointment reminders - automated communications can help.
Individual messages can be created and quickly sent through Dentally - because we understand that sometimes a more personal approach is required.
Automated recalls
Dentally makes setting up recall messaging workflows easy. You can automate the recall process and send preset sequences of emails, SMS and posted letters - helping you provide professional service combined with exceptional customer service. Save time and make your patients feel valued.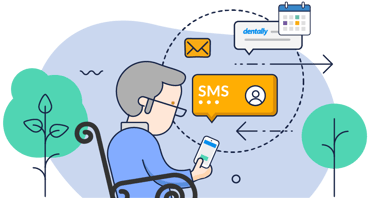 Recall workflows are customisable based on the recall type, payment plan, practitioner, recall date and a patient's preferred method of correspondence. Sequences are manageable - you can set daily limits for outgoing messages and a daily schedule for sending times - allowing you to plan for incoming calls. Read more about automated recalls here.
There are many ways you can utilise automated communications to better your workflows - take a look at them all here.
Dentally Elevate can help you learn so much about the software to help you guarantee that you are using it to the best advantage for your practice. After all, your practice is your business, and we understand how important it is that Dentally benefits it.
Keep an eye out for more blogs coming soon, helping you understand what the Dentally Elevate programme can do for you and your practice - if you are interested in joining the programme or any features of our software, contact us at hello@dentally.co now.