We often talk about the importance of communication. We all strive to keep in touch with friends and family - and the workplace is no different. Communication is at the heart of any business - and so it is important to help your team stay connected and work more effectively.
Staff shortages continue to be a challenge for dental practices, so it is vital to take care of your team, reduce the admin burden and ensure they have time to keep your business running smoothly and profitably - and importantly provide a positive environment to work within. Remuneration is of course a factor, but people also want to feel valued and achieve job satisfaction.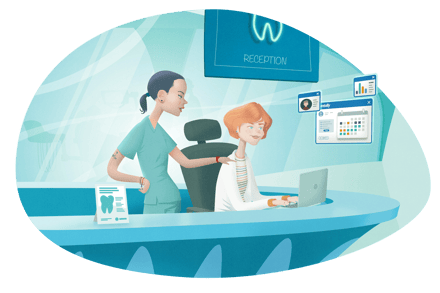 The reality of running a successful dental practice is that you will always have a long list of tasks that have to be completed from patient communications, marketing, financials, appointment books and rotas. So, make life easier for your team by choosing a practice management software that has been designed in collaboration with dentists, with ease of use at its heart; take a look at cloud enabled dental software, Dentally.
Whether you are looking to keep your admin team focused on patient communication, payments, filling your appointment book and providing exceptional customer service to your patients - or if you want your clinical team to have more time to do dentistry and less time trying to keep up to date with paperwork, then it's time to take a fresh look at your systems and tools.
Dentally can ease the burden of admin with its easy-to-use workflows - helping your team of staff to manage their own workload and ensure tasks are completed in a timely manner, and not missed, whilst delivering an exceptional level of patient care.
Workload planning
Using features like Tasks List in Dentally allows dental practitioners to assign, track and undertake tasks to improve practice management and manage staff workloads whether they are working remotely off-site (undertaking admin or triage work) or on-site at the practice treating patients.
Patient-specific tasks such as phone calls, correspondence and other admin can be set against target dates whether they are recurring daily, monthly, yearly or periodically to ensure they are completed in a timely and effortless manner.
Remove repetitive tasks
Using automation to optimise your practice efficiency is an essential tool, keeping everything running smoothly in your practice, taking care of all your day-to-day admin and ensuring your patient communication is consistent.
Automating your patient communications means that you will never forget to create an invoice or message to a patient again! It is simple to set up in Dentally, allowing you to send messages to patients that can be scheduled around certain events such as appointments, creation of invoices or estimates. There are many different scenarios, from online medical history, appointment reminders and much more!
Automated recalls in Dentally means that you can set up recall messaging workflows within the software, which automate the process to send the patient an email, SMS or letter on the appropriate day and time. Importantly it helps you keep your appointment book full.
Keep talking
Dentally Chat is an instant messaging system that allows dental practitioners and their teams to communicate easily with one another, encourages social distancing, keeps everyone informed, supports team morale plus it may also help clinical work to run on time.
Keep your team connected wherever they are working, whether you need to check details with a colleague or send a request from the surgery to the reception team (for example, to ask for new surgical gloves or just simply a glass of water!), keep your practice running smoothly.
Patient care
Give your team the time they need to make your patients feel valued when they arrive, help to put them at ease and more - all those customer service elements we all take for granted.
Dentally not only makes these tasks effortless for your team, but it ensures your patients receive the best possible care at every touch point with your practice.
Book a call with our team today to take a closer look at Dentally, the future in practice. Help retain and attract your staff by giving them the best possible practice management software on the market - that really has been designed with dentists in mind. Take a tour of our website today: dentally.com