There is nothing quite like getting together in person, something we have all come to appreciate more in recent years! So join us this November to find out how you can take your practice to the next level and navigate the post-pandemic challenges with cloud technology in our first-ever Elevate Workshop!
Here at Dentally, we have been working with you in mind to build our customer success program, Elevate. If you don't already know what Elevate is, it is a customer success program that is run by us, for you. Elevate provides you with the ability to speak with us on a personal level, we help you grow your practice, improve your workflow efficiency, connect to your patients and make your team's life's easier.
The Elevate Workshop will be full of opportunities to learn and grow yourself and your business. All are welcome from your practice, in fact, we encourage as many people to attend as possible, and we are excited to meet you all on the day. The team at the event will be hosting different training sessions with speakers and panels throughout the day, as well as the ability to have 1-2-1 chats with our customer success team.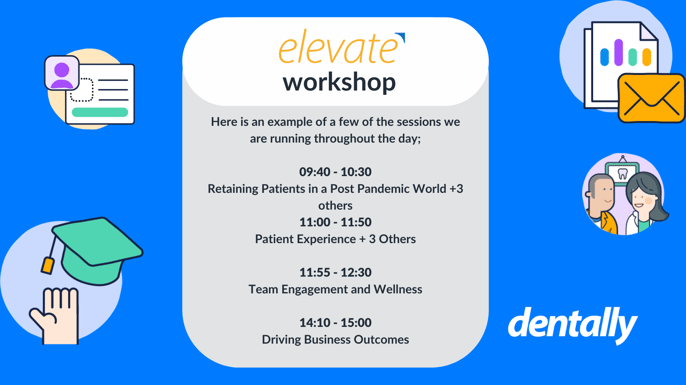 During lunch you have the chance to network and chat with your peers, our guest speakers and the team to continue the conversation on themes from the sessions. You can share tips and tricks along the way and by being at the event you'll also gain 5 hours of verifiable CPD - learning outcome C.
The day will be full of chances to drive your own team's engagement and to boost your team's knowledge, as well as chances to set yourself actionable business goals to take away with you. If you wish for further 1-2-1 help after the event, we can of course continue to support you via the usual channels and arrange for a monthly phone or zoom call to aid you on your journey with Dentally.
So, make sure you save the date, November 4th, and head over to our website here to find out further information on the event, or head here to reserve your tickets now!
If you are unable to attend the event, please do reach out to our Elevate team to book your 1-2-1 chat over the phone with us today to get started on your Elevate Journey.