Today, staff shortages across many businesses continue to be a difficult challenge to overcome - Meaning, attracting and retaining staff for your dental practice will be high on your agenda.
Remuneration is of course an important factor in light of the rising costs of living but so is providing your team with a place of work that they feel comfortable in and an environment they want to be in. Your staff will want to experience a feeling of value, have the opportunity to progress and feel empowered to give the best possible care to your patients.
Retaining your existing staff members by providing them with tools that enable them to do their work effortlessly and effectively is important, whether they are working on your practice admin, communicating with patients or are practitioners delivering clinical care in surgery.
Practice management software for your dental practice can support your staff retention by removing the burden of admin, while it can also help you to attract new members through its ease of use and the opportunity to earn more through a thriving patient base.
Effortless working
Managing workloads, setting tasks and good internal communication is all made simple with Dentally's easy to use reporting, tasks lists and chat functionality. So your team can work together and enjoy their work - ensuring they have more than adequate time to focus on caring for patients.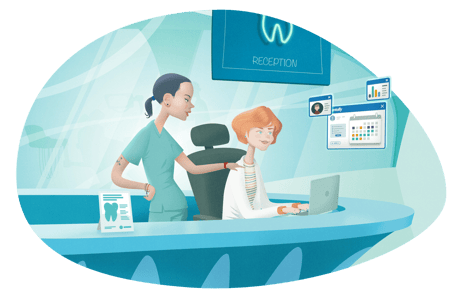 Removing effort from repetitive tasks will always be popular among your team. Using automation to optimise your practice efficiency is an essential tool, keeping everything running smoothly in your practice, taking care of day to day admin and ensuring your patient communication is consistent.
Automated patient communications in Dentally are simple to set up, allowing you to send messages to patients that can be scheduled around certain events such as appointments, invoice creation or new estimates. There are many different scenarios when this feature can really help your practice, from sending out online medical history forms, appointment reminders and much more! This will free up your team's time to focus on other elements of their role.
Another simple to use feature that again saves time is recall automation - importantly it also helps you keep your appointment book filled, so conversations are easier and delivered via a patient's preferred contact method in a timely manner.
Don't just take our word for it!
It is not just your admin team that will benefit, as a clinician and practice owner, Dentally offers a whole host of benefits. But don't just take our word for it; take a look at our some of our customer stories here.
Our training is tailored to your team
We do appreciate that if you are considering moving from an existing system (digital or paper), that your team may naturally feel a little nervous - so you can rely on us to work with you collaboratively to alleviate any fears and ensure your staff are fully trained so they are able to learn and embrace it.
Ease of use is at the heart of the Dentally ethos, and our team is committed to ensuring that every part of our software is simple to use - for all members of your team, whatever their skill set or confidence with IT.
Book a call with our team today, to find out a little more about how Dentally can help you retain and attract your staff - and keep your business on track.