At Dentally, we are dedicated to providing dental practitioners with a practice management solution that eases the stress of everyday practice life - providing you and your team with more time to do dentistry.
Last week we showed you how our easy to use automated recalls can help get patients back in the surgery, keeping chairs full and oral health in check. This week our focus shifts as we walk you through methods that automate all of your patient communications, ensuring that your patients feel kept up to date whilst your team minimises time spent on monotonous admin tasks.
Whether communicating with patients or internal teams - from automated paper mail to SMS, email and Dentally Chat - no matter your patients preferred method of communication, whether teams are on-site or remote, we can help you save time in your busy day.
Dentally Mail
Not every patient in your practice will want to receive digitalised patient communications - that is why we have made sending out postal mail easy and quick for your team with Dentally Mail.
Our correspondence templates mean you can tailor your postal communications to fit your practice branding, automate postal processes and ensure your patients are informed.
In a matter of clicks, practice mail is printed, packaged and sent out from a specially selected Dentally Mail point. With us, you know that your mail is delivered safely, reception teams save time and provide the ultimate patient experience to everybody who steps foot in your practice.
Dentally understands that you will more than likely wish to have complete control over the goings-on in your practice, which includes what gets sent out - after all, your practice is your business. Dentally's posted letter reports is an excellent tool so you can see who receives what mail and remove any patients from mailing lists - stopping the letters from being sent out.
Telephone Calls
Outbound telephone calling in Dentally is another time-saving tool that we have created with you and ease of use in mind. You can make calls directly from your patient's record using just your internet connection - once again simply, Chrome and go with Dentally.
As staff absences remain prevalent in the face of the Omicron challenge, perhaps some of your team are working remotely. Outbound telephone calls mean these team members can still make calls directly from Dentally, keeping their to-do list up to date and getting patients booked in and taken care of.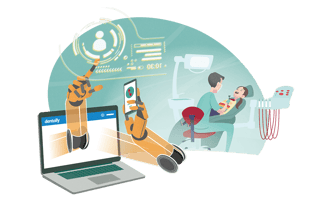 Caller IDs can easily be set to the practice number whether teams are working on-site or at home - so patients will be more likely to answer calls and return them if they are missed.
Calls are logged and conveniently, as they are made directly from the patient record, the call handler can take notes as they speak. That way no information gets missed - we are only human, and mistakes can happen - optimise your practice efficiency with outbound telephone calling.
Two way SMS and emails
With Dentally, you can easily send and receive SMS and emails - so you don't have to worry about missing any incoming correspondence from patients. Messages are assigned, as they come in automatically to the patients, saving your reception team time. If a patient's contact details change, your team will need to update them manually to ensure this process still works efficiently. By keeping track of all correspondences sequences, Dentally ensures that you can easily remain up to date with practice goings-on and streamline your processes.
At times you will more than likely be required to send out a message to more than one patient at once. To do so, all you need do is set up a bulk patient message with the assistance of filtered sections from the Patient Reports, compose, proof and send, and there you have it - bulk messaging in a matter of clicks!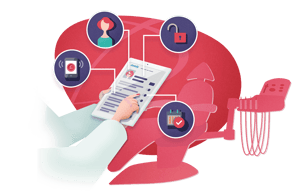 We also know that sometimes you may want to send a message with a more personal touch to patients - this can be achieved too, with Dentally. Simply, go to the patient's correspondence tab, create a new correspondence, compose your message, send and await your reply. A tailored and personalised message can make your patients feel valued by your practice, increasing returnability.
Don't forget - when making the most of our communication methods, our correspondence templates are an excellent tool! We provide you with customisable correspondence templates, so you don't have to write the same text every time you create a document of a similar substance - read more about our correspondence templates here.
Dentally Chat
Dentally isn't just good for external patient communications but also internally between practice teams. Dentally Chat is much like Whatsapp but for work. Whether you need to send notes from reception to the surgery discretely about a patient or maybe the staff room needs more biscuits - no matter the reason - Dentally chat makes communicating easy.
Chat also presents the ability to keep teams connected as more people work from home, once again due to Omicron absence and isolation periods. Read more about Dentally Chat here and how your practice can use it alongside Task Lists to streamline practice processes.
At Dentally, we always have ease of use in mind. That is why everything we do aims to reduce time spent on admin and take the stress out of everyday practice life. Our communication methods mean your staff spend less time on repetitive admin tasks and more time delivering the best patient experience possible. Speak to our team now at hello@dentally.co to see for yourself how we can help streamline your practice.