Online reviews have become fundamental to businesses across the globe and Dentistry is no different. It may seem like a new concept to you as a dental practitioner to have your practice reviewed, but online reviews have grown exponentially in the last few years and are now a go-to for lots of consumers, new and old.
Today we are going to be delving into the world of Working Feedback, looking at why online reviews are so crucial and how they can help you grow and thrive as a business. Kate Reeves, Business manager of Aurora Dental Clinic has shared their practices' experience with Working Feedback and how it has helped them understand their reviews and why this has been so important.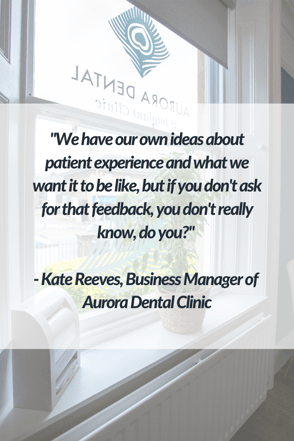 Everyone and everything are online. Whether you are looking for a place to eat or are buying a new product online, the first thing we tend to do is check the reviews, check the stars and make sure you are investing your money wisely.
Dentistry is no different. Dental practices are businesses after all and Working Feedback has made the task of collecting reviews super easy for you. Beginning your journey with online reviews although exciting with the prospect of amazing stories and feedback, can also be a daunting time when utilising something new to the practice.
Kate tells us about her journey with facing the possibility of negativity and how when faced with such feedback they have been able to learn, grow and change as a business to ensure all patient's needs are met. "Because we strive to give a five-star experience, we were initially a bit apprehensive about inviting more reviews because of the possibility of getting a negative one. You don't want negative Google reviews."
Once you begin the journey you will soon realise that your reviews are simply an opening to interact further with your patients. A way to garner knowledge and gain an understanding that you may have overlooked in the past. Kate goes on to tell us - "The way we view reviews now has changed. We see them more as quality assurance. We haven't had any real negative Google reviews at all, but it has been quite useful in patients being able to leave anonymous feedback rather than a negative review."
Online reviews give you the chance to get an honest, truthful, unfiltered response from your patients. You get to hear amazing feedback and stories about your staff and can read your patient's experiences first-hand. Kate tells us,"We found it really useful for us to improve, and continually improve, because what we see, how we see things work in the clinic from the patients' perspective, are different. We've definitely seen more constructive feedback from patients, which we are able to act on."
You can use utilise your online reviews to actively make changes because of the feedback you receive. This is one way of showing your patients through your online presence that you are a customer-focused dental practice and you do have their interests at the forefront of your mind. "The way you respond to that feedback gives potential patients great insight into how you do things. If you can respond in a way that's positive, even if maybe their feedback is constructive, that says a lot about you, and patients can pick up on that."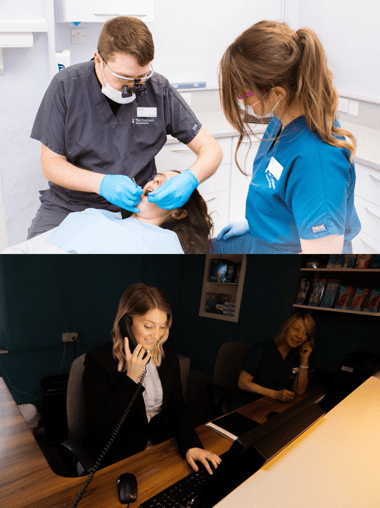 There are tons of benefits for the team and practice from receiving online reviews that are both good and bad, Kate explains their interpretation of reviews since using Working Feedback. "We want to know if they've had a negative experience and what that was, because nine times out of 10, we can improve it. Equally, when there are really lovely comments left, we always reply and say how grateful we are for the fantastic feedback because it is really important to thank them when they have taken the time to do that."
Kate finishes by saying "I think it's been a real motivating factor for the team. We've seen massive improvement. To hear them leave these wonderful reviews about reception staff and the experience they've had, we always share it with the team on our team page, and it's just really lovely." Kates story has shown us how Working Feedback can really help change your outlook on online reviews. It isn't simply a good or a bad review, It is a happy or not-so-happy patient, that you can respond to and interact with to understand their concerns or praises. It's an insight into a new perspective that you can grow and change from in the future. To read the full interview with Working Feedback and Aurora Dental Clinic head over to their website here.
As a Dentally user, you can integrate Working Feedback straight into your software just like Kate. It works automatically in the background doing all the hard work for you. Upon the completion of each dental treatment, Dentally will trigger a review request to your patient, based on that individual's marketing communication preference.
All patient responses are moderated first by Working Feedback before sharing through online platforms such as your website, social media, NHS and Google (if applicable). Any constructive or negative comments are sent to the practice before making live, to give you the opportunity to manage the response.
With it being such an easy process, you can be up and running with Working Feedback in no time, it's one of our quickest turn arounds from purchase to installation as the setup is just so simple. There are just 3 easy steps;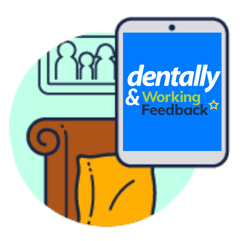 Register your interest in Working Feedback with us at

Hello@dentally.co

We will be in touch with further information and to finalise your purchase.

Lastly, Working Feedback will reach out to provide training and to set you up with your own client dashboard, its as easy as 1, 2, 3!
You can access the client dashboard through Dentally at any time by going to your settings -> Integrations and clicking on Working Feedback.
Let Working Feedback help you grow your online reviews by getting in touch with us here.