Are you tired of juggling multiple tasks and struggling to keep up with your ever growing to-do list? At Dentally we understand the importance of efficient workflows and staying on top of your daily practice responsibilities. That's why we are thrilled to announce the release of Dentally's highly anticipated Task Notification feature, designed to streamline your workflows and ensure you never miss a deadline again.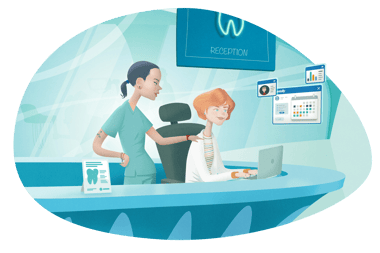 Our task notification feature allows you to plan ahead and effortlessly manage your tasks within Dentally. With clear visibility across the platform, you can easily keep track of upcoming and overdue tasks, helping you to prioritise and manage your workload more effectively.
So, what can you expect from Dentally's Task Notification features?
Personal notifications -

You will receive notifications when another user assigns you a task. These notifications will appear in the notification list, conveniently located behind the bell icon. Stay informed and never miss a task again with this handy feature.

Task counter for outstanding tasks -

For tasks assigned to you that have a due date set within 1 day of the current day or are past due, the task counter will appear against the task list icon on the toolbar. This counter serves as a helpful reminder, ensuring you prioritise and complete your tasks on time.

Patient-specific task notifications & counters -

In a dental practice, tasks often revolve around specific patients, now when a task is associated with a specific patient with a due date set within 1 day of the current day or being past due, a notification counter will be displayed against the patient's Task tab on their patient record.

Your feedback has helped pave the way, allowing us to deliver you dental software that serves you best. With Task Notifications, you can enhance your overall experience, boost productivity, and provide a seamless task management solution tailored to your dental practice's needs.
Take advantage of this powerful tool to streamline your workflows and start using tasks today! Learn more about using Dentally's task features in our help centre here.
If you have any questions, then please reach out to Ellie and the support team via Live Chat in Dentally.