Dentally and Working Feedback, in

conversation wit

h;

 Nadeem at Dentistry

For

You 
Having software that supports your practice goals and growth plans is essential in today's competitive market. Here at Dentally, we understand that retaining and attracting patients is a key part of maintaining a thriving business. With consumers often turning to others' experiences and advice, it's important your patients have access to have their say.
In today's society, it has become customary to anticipate a means of leaving feedback across various fields of activity, whether it be dining out, online shopping or staying at a hotel. And visiting a healthcare provider is no different. When looking for local recommendations, online reviews are the first place we look. Recently we sat down with Nadeem Harunani at Dentistry For You to discuss why he chose Dentally's cloud software and Working Feedback's patient feedback system.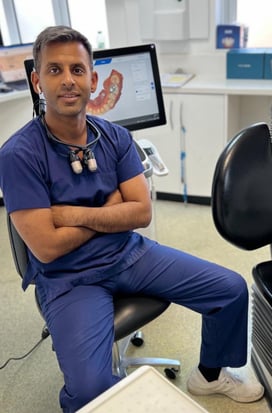 Can you tell us about the vision for Dentistry For You?
N: Dentistry For You are a group of practices, with sites across London, Essex, East Sussex, Norfolk and opening soon Portsmouth, Taunton and Exeter. We've been operating since 1986. Our ethos is to provide quality dental care, with the provision of mixed and NHS services in a private environment.
How does Dentally support your practice vision? 
N: Dentally aligned with our plans to expand further, particularly Dentally's multi-practice platform which enables us to manage all of our sites, being able to log in from everywhere and anywhere. 
What do your team like about Dentally?  
N: The clinicians enjoy the flexibility of being able to remotely login if necessary and the staff prefer the speed and ease of use. Dentally is more in tune with our approach of being pro active with changes that are introduced by NHS England, for example October and November last year with the introduction of band 2 category, Dentally were quick on the draw and made the changes seamless for us by pro actively introducing those categories to the platform. 

Why did you choose Working Feedback?  
N: These days you wouldn't go anywhere without checking an online review, you want to go to a restaurant you would use TripAdvisor and we were aware of this consumer trend and requirement to have social proof available when patients were considering our practice and treatments.  
What do you like about Working Feedback?
N: We were using Doctify for 2.5 years which saw us achieve 999 reviews, now we've been with Working Feedback for 10 months and had 3860 reviews and 753 google reviews already.  Working Feedback are great at integrating with Dentally and the automated communication that goes to patients after treatment removes that burden of obtaining a review from our busy reception team. The way they integrate isn't just sending messages, another thing that was very clever was the link in with NHS choices, so a number of our reviews automatically get published onto our NHS choices page. Im really happy with the KPI reporting across the multiple locations and being able to see clinicians feedback data as well.
Driving new consultations and increasing our private revenue , with Working Feedback we are able to customise our feedback questions, to which we've added 'are patients interested in any other treatment' and that data is automatically sent to our referral office who can remotely log in and book a consultation for that patient about the treatment option they've flagged as being interested in. We then pull all that data every month to see if the additional treatments patients have highlighted as being interested in, has been booked.
Get in touch with our team to discuss how Working Feedback can help you grow your online reviews today.