At Dentally, we know that running a dental practice comes with lots of responsibility and pressure. Whether it's meeting targets, keeping a happy team or utilising chair time whilst providing the best patient care - your to-do list can seem never-ending. That is why we strive to minimise the stress of practice management with our cloud-based software - meaning you can focus on your patients.
Dentally's automated recalls are just one of many ways we ensure that you save valuable time and your patients shift to the forefront of your focus. Automated recalls minimise the disruption caused by running recall reports weekly and manually selecting patients to receive correspondence. Instead, Dentally generates a recall report automatically once a week. Depending on your customisable settings, notifications get sent to patients who require an appointment - so you don't have to worry.
How a recall will be sent
As much as we know that recalls are beneficial to your practice, we appreciate that the recall process can seem a little daunting if you don't fully understand how it works. After all, your practice is your business, and you want to know what is going on.
The automated recall workflow is simple to understand - essentially, a recall is created, and correspondence is sent when:
Your practice has automation turned on and configured within Dentally.
The patient has a due recall date and a recall interval set.
The patient does not already have an appointment booked that's set as the type of recall they are due. For example: an 'Exam' type appointment when they are due a Dental recall, or a 'Scale & Polish' type appointment when the patient is due a Hygiene recall.
Automated recalls work effectively around your practice requirements. Not only this, but their notification process is efficient, sending out recalls on the most appropriate day. For example, if the recall report identifies that a patient is due an appointment on a Tuesday in 5 weeks, the correspondence is sent on the Tuesday 4 weeks before.
Why recalls?
Dentally understands the sheer importance of building solid and communicative relationships with your patients. When you notify them of upcoming appointments, you can build rapport, thus increasing patient loyalty and the returnability of your practice.
The recall workflows are easy to tailor to suit the specifics of your practice - whether that be recall type, payment plan, practitioner, recall date or a patient's preferred method of correspondence. No matter what, you know your practice provides the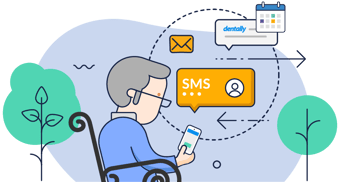 most professional service and a valuable patient journey with automated recalls.
You can easily set outgoing message limits and daily schedules - so you know when to expect more calls, preparing your reception team for queries on set recall days.
Recalls can be used auspiciously with Dentally Portal - a way for your patients to easily book their appointments - saving both you, your team and your patients time.
Dentally, always works hard to save you valuable time for dentistry. With automated recalls, you can fill practice chairs, keep patients informed and ensure you provide the best oral health care. To learn more about automated recalls and how to switch them on, click here, alternatively speak to the team now at hello@dentally.co if you have any queries - we are always happy to help.