Have you thought about how much time your team is spending on form-based admin? From locating the correct form, to printing, setting it up for a patient to complete and then manually updating the patient record with either typed or scanned answers – it all adds up. And not to mention the cost, security measures and environmental impact associated with these processes.
At Dentally, we've developed powerful cloud-based tools that streamlines these processes, minimising paperwork and more importantly, freeing up your practice team to deliver a better patient experience.
In a recent blog, we touched on Dentally Portal's Online Booking functionality. Today, we are going to be exploring how online medical history, form completion and treatment plan adoption can all be managed just as seamlessly within Dentally Portal.
What if all required forms were completed before your patient even arrived on site?
Dentally Portal gives your patients the freedom to complete or update forms securely at a time that suits them. By having all 'paperwork' completed digitally ahead of time, both the clinical and administrative team will feel fully equipped to offer an exceptional patient experience from start to finish - avoiding any prolonged wait times and giving your team more time to do dentistry. Be it smile surveys, NHS FP17 forms or treatment estimates, they can all be completed by the patient with ease.
Here's how it works: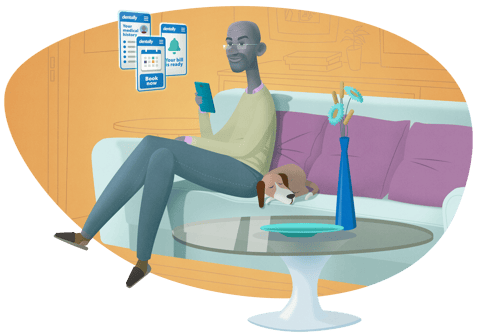 All digital 'paperwork' can be customised to fit your branding and practice requirements.

Patients can easily and securely login at any time or when prompted to, to manage their medical history, review and sign treatment plans and consent forms or update contact details. Fields will be pre-populated where data is already held on the patient, allowing them to quickly update if needed.

The patient's record will be automatically updated with any new information in real time.
Removing the 'middleman' both streamlines your working practices and increases their accuracy. Gone are the days of misspelt names, incorrectly heard addresses or out-of-date medical history – as patients are empowered to take control of their own data capture, you can feel confident that you will always hold the most correct and up to date information on your patient base.
How about when your patient leaves the practice?
Dentally Portal not only enhances your patient's pre and in-practice experience. Following your patient's appointment, professional treatment plans and estimates can be delivered to your patients via the portal, with functionality that allows them to: review documents, electronically sign and download as a PDF. Once again, cutting down on unnecessary back-and-forth communication between your team and patients whilst increasing treatment plan adoption with a simple and straightforward process.
Find out how Dentally Portal could elevate your team's productivity whilst transforming your patient journey, chat to us today.