In the dental market, there are a number of different practice management software solutions to choose from - all vying for your attention. But what should you be looking for when choosing the best dental software for your practice and how do you dispel the myths and cut through the marketing slogans?
Cloud technology quietly exists in many aspects of our everyday lives, from keeping us connected to family and friends, entertaining us, allowing us to work remotely and more. For dentistry in recent years, we have seen cloud prove to be transformative and it will continue to support dental practitioners as we deal with the ongoing repercussions of COVID-19, rising costs of living, staff shortages and more.
However, not all cloud is the same! Let's just talk about the seven key features that are at the heart of cloud practice management software so you know what to look for when talking to a supplier when talking about moving your practice management software.
1. Save money – eliminates the need for buying expensive hardware and removes maintenance costs.
2. Scalability – the ability to scale elastically whenever needed.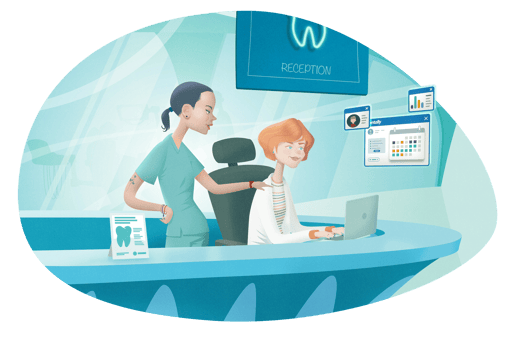 3. Performance – the biggest cloud computing services run on a worldwide network of secure data centres, which means that they are using some of the most efficient tech available.
4. Security – robust policies, technologies and controls are all in place that strengthen the security of your data and protect against potential threats.
5. Speed – vast amounts of resources can be provisioned to ensure that speed is never an issue.
6. Productivity – no set up or maintenance required.
7. Reliability – continuity of service is guaranteed by spreading the way the service is delivered across multiple servers.
Dentally's cloud practice management software, has these core elements at its heart - but with the added advantage of being designed in collaboration with dentists. Dentally is all about ease of use and if we may - and to save you some time, let's just take a moment to explore these key features.
Saving money (as well as time!)
There is no need for expensive hardware and servers with Dentally. All data is stored securely in the cloud, to keep your practice running smoothly and cost-effectively, there is no need for disruptive and costly downtime!
Save money on IT - there is no need for expensive servers and hardware, all sensitive data is stored securely in the cloud.

Chrome and go - you can run Dentally with an internet connection or 4G.

Connect unlimited computers - there is no restriction on the number of computers from which you can run our cloud based software.

Compatible with multiple operating systems and works on multiple devices.

Automatic data back-ups and daily updates - no restarts, no downtime and no hassle - our software is high performing and stable.
Working for you now and in the future
We understand that you may wish to develop and grow your practice in the future, whether that is opening another surgery or a further practice site in a new location. Dentally is a versatile system with multi site features built in, that allows you to easily grow. Users also benefit from lightning fast and importantly real time reporting - so you can make informed decisions as to the next step for your business.
Dentally is a really agile secure resource, that multiple users can use and with API interconnectivity at its core allowing you to integrate with third party platforms such as accounting software or Working Feedback to increase your Google reviews from patients.
Performance, speed, realiability and productivity
As a true cloud solution, Dentally can provide you access whenever you need it via multiple devices, it offers speed and resilience across the infrastructure, instantaneous updates and back's up without any interruption to users.
All you need is an internet connection and to run Chrome web browser. It runs on unlimited computers and is compatible with a number of different operating systems. If on the rare occasion you lose your internet connection, then you can use a data hotspot on your mobile phone to use 4G or you can have a backup router that has a SIM card.
With updates from the NHS or when new features are added into the software, you benefit from daily updates which happen automatically - without disruption and with no restarts or downtime. Dentally just takes care of this for you, so you can ensure your software is up to date and backed up safely.
Security at every level
A key consideration of course for any dental practice owner is ensuring the security of their sensitive patient records.
Using cloud-based software data is much safer than hosting it on a local computer or server in a cupboard, which also takes up valuable space in your building and is usually power hungry! At Dentally we not only encrypt your information within our platform, we also ensure that your users are logging in securely using our privacy features to give you complete peace of mind.
Leveraging the power of cloud
Dentally is brought to you by a team of people who understand that you need much more than a solution that makes appointments and records a clinical record. You need a platform that leverages the full potential of cloud technology so that you can effectively run all aspects of your business and deliver exceptional patient care safely through a seamless digital journey.
To learn more, book a chat - and see why Dentally is the best choice in cloud practice management software for your dental practice, helping you to work now and adapt in the future.