Communication is key to a successful business - from easy to understand instructions and tasks, informed conversations and security. Dentally understands the importance of having the correct features in place to guarantee a streamlined method of communication across teams.
Sometimes the practice will need to communicate between practitioners and the wider team - not just the practice to its patients. That is why we have Task Lists and Dentally Chat within our cloud-based practice management software - just another way Dentally helps to take the stress out of daily practice life.
Both Dentally chat and Task Lists help reduce admin burdens, streamline internal communications and keep you up to date with all of the goings-on in your practice - maintaining the absolute best level of patient care possible and a happy team too.
Task Lists
Task Lists were made with ease of use in mind - just like everything we do. With them, you can track and undertake a multitude of tasks from calls, correspondence to patient admin, so you know that all of the things that need doing will be done and promptly too.
With Tasks Lists, you can keep track of must-dos, as well as manage workloads effectively, support staff by helping to carry out vital tasks and improve your patient communication and general practice management too.
If you want to take the effort out of daily practice life even further, you can use Task Lists within Dentally alongside our outbound telephone calling feature. This process is simple - all you need to do is make calls directly from a patients record or the created task.
Dentally Chat
Communication exists at the heart of our everyday lives, whether at home or work - from chatting to family to work emails and messages. No matter the reason - instant messaging is ingrained into society. That is why the Dentally team, to streamline practice processes further, created our own instant messaging service - Dentally Chat.
Dentally Chat provides a simple and secure method of communication for internal practice teams. The messaging feature easily allows practitioners and the wider team to communicate without fuss, helping to save time, streamline processes and help you and your team make better decisions.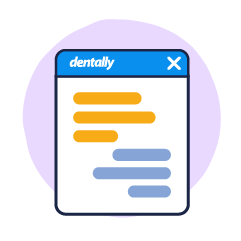 Whether you need to send a discrete message to a member of staff - regarding a patient, pass on some information or make a request from the surgery to the reception team. No matter your reason Dentally Chat is here to support you - making daily practice life just that little easier once more.
With Task Lists and Dentally Chat, you can rest easy knowing that your practice has the best internal communication methods and sensitive data is handled securely. After all, running a practice is hard work enough without having to worry about internal communications - let your cloud-enabled practice management software take care of your business with Dentally. Talk to our team now at hello@dentally.co to find out more.