Today we welcome the final instalment of our new perio exam blog series. Today we are going to look at the new view that the team have worked on as well as the new settings that have been introduced to help improve the workflow by adding more customisation.
Our previous blogs touched on the new methods of displaying the patient's tooth status, as well as the added function to compare and rename perio examinations. These features alongside today's blog topics have made for a hard-to-beat perio exam screen, all inspired by you, for you.
We want to make sure that Dentally can cater to as many individuals as possible, as we know everyone has their own unique way of working - all our feedback as mentioned in previous blogs has come directly from you. The Dentally development team have worked hard on implementing some of the top priority changes that have been suggested across the board, all helping towards improving your workflows, simplifying your processes, and making your lives easier.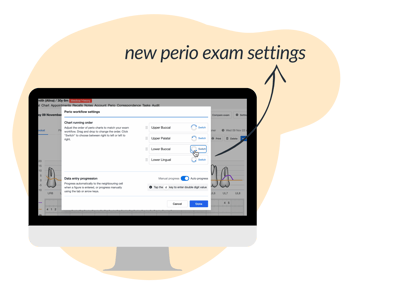 The new perio exam workflow settings give you the ability to customise your exams like never before, you can set this up to suit your ideal workflow. You can change the sequence of what order you record each side of each arch and even whether you wish to work right to left or vice-versa on each section.
Based on further feedback from sites using Dentally, you can now choose whether the cursor is automatically moved on to the next pocket each time you input a reading, or if you would prefer to move this on manually. These preferences are recorded for each user, meaning each user can have their own preferences set up on their account and every time you record a new exam, the settings you choose will be remembered for the next time. This way everyone can have their own individual settings to match their working style.
Perhaps the most obvious change of them all, that should be a big stand out when accessing your new perio screen is the new layout and preview that we have designed. Our team worked tirelessly on this, talking to customers to ensure it works for you and gauging feedback as to the best way of developing this new screen.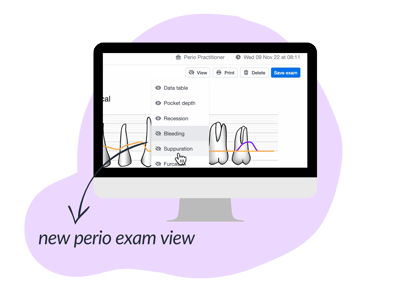 The new design highlights easy-to-see rows for each recording on each tooth, allowing for simple understanding not just for you but for your patient, meaning better patient education. Each row records a different piece of data, so we have also included a filter section for you to pick and choose exactly what rows you want to see when viewing the chart, therefore if you only need to compare the mobility reading you can remove all other recordings and just see those or you can view them all for a clear picture of the patient's overall perio health.
Dentally graphical representation has also been worked on alongside the recording functionality, the new graphical perio chart allows you to see a cohesive representation of each recording. And when comparing exams, you can even see these together on the chart to compare the improvements or regressions easily with your colleagues and patient.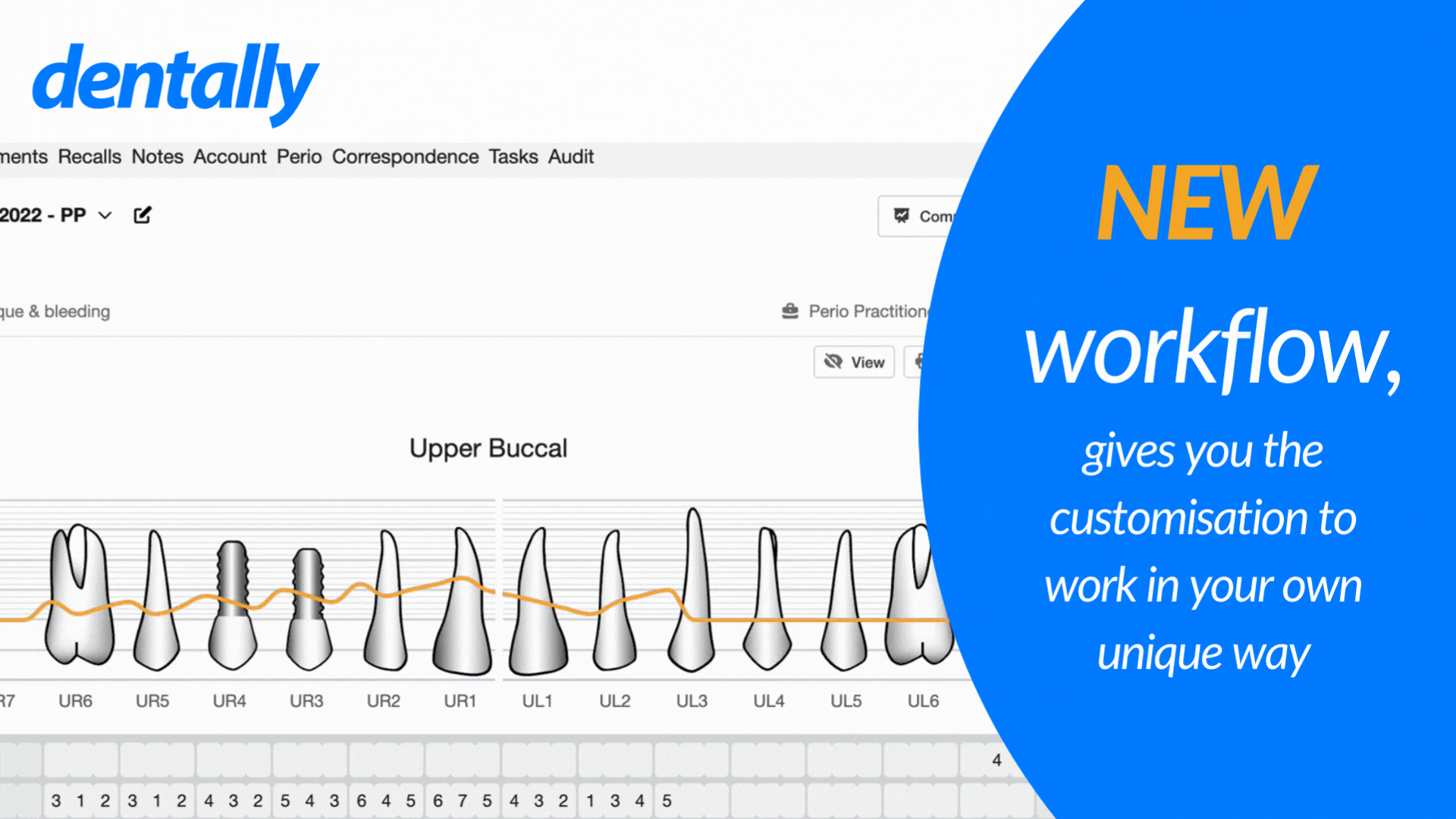 As you can see, Dentally's new way of recording and reviewing perio has so many great benefits for you to take advantage of. With Dentally perio you can improve your workflow as a dentist, as well as increase the patient's exposure to the quality of care they are receiving. Patients will be able to see the payoff from your treatment clearer than ever and will be able to learn the importance of caring for their teeth correctly with help from the new intuitive features available at your fingertips through Dentally.
Our perio series of articles can all be found on our blog and for further in-depth info on how these new features work, you can head over to our help guides here;
https://help.dentally.co/en/articles/3565934-charting-a-perio-exam
https://help.dentally.co/en/articles/6205931-comparing-perio-exams
https://help.dentally.co/en/articles/6404356-adjusting-perio-exam-view
https://help.dentally.co/en/articles/6404493-adjusting-perio-exam-settings
If you have any further questions, please reach out to the support team for assistance or contact us on hello@dentally.co with any questions, queries or feedback you may have.