Today, we face a number of challenges as the world continues to recover from the repercussions of a global pandemic and the devastating war in Ukraine. The increased cost of living impacts utility bills for a practice; staff shortages have meant higher wage costs as you work to attract and retain your practice staff; and your patients income is diluted with high inflation and soaring food and electricity bills.
You no doubt have several things to contend with every day, whilst thinking about your business as whole and dealing with the following considerations:
How do we attract new patients?

We need to empower patients to take control of their oral health?

How can we improving recall rates?

We need look at how we can reduce our lapsed patients list?
This list is something that many dental practices are familiar with, it is important to keep your practice team engaged and focused on these areas - whilst they also deal with the realities of working in a busy practice. There are many pressures on your practice…
So how do you emerge stronger from these challenges, delivering benefits to your practice, staff and patients?
Technology has been at the forefront of changing the way we all live, work and stay connected in recent years. For dental practices, leveraging the power of cloud-enabled solutions like Dentally has proven transformative. Dentally provides more than the basics of software patient management. It helps you save time, money and reduce the admin burden allowing your staff to be more agile in the way you manage and deliver care to patients.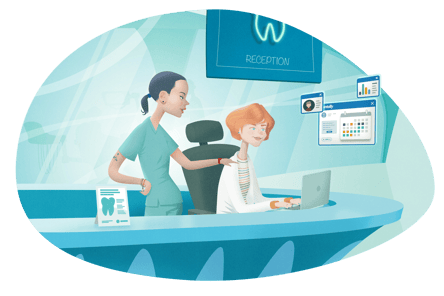 Working through your to-do list becomes easier and simpler as you optimize the efficiency of your workflows and processes with tools that automate tasks, tracking admin and managing staff - reducing their burden. Cloud software can also help you empower your patients to prioritize their oral health, providing an effortless way for them to book and manage their appointments with you.
There is a long list of features within the software that can help your practice run seamlessly, support an exceptional patient experience and maintain a happy, efficient unstoppable team. Here we offer a brief overview of some of them…
Automated recalls
Did you know that on average a team will spend two minutes per recall, which equates to 20 bookings per day? However, we know that on average 60% of most patient bases don't receive a recall. So why is this? Because your team just doesn't have enough time in the day to deal with them all. So, by automating your recalls improves your recall rate, ensures your patients care protocol is being managed and removes a huge strain from your reception team.
Online tools for an effortless patient experience
Every day the ability to manage so many aspects of our lives online has become the norm, we all crave convenience and will often pay more for that. Consumers (and patients) consider tools such as online appointment booking and patient portal as table stakes. To run an effective practice that retains and attracts patients, these tools are no longer a 'nice to have' but an essential part of the patient journey.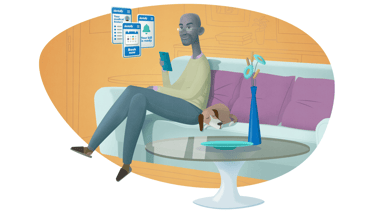 If you don't have online appointment booking, you will likely find that your staff are always preoccupied with the phone ringing and unable to focus on patients who are in the practice. It also means that patients may not prioritize their oral health, because they can only make an appointment when you are open - often at a time when they are busy at work or with family and it is just not convenient. However, by implementing online appointment booking, you immediately make it effortless for your patients to book and you free up your staff's time to focus on demand generation and patient care.
Other tools like form completion for medical history admin and payment links also complete these digital effortless patient journey - with direct benefits to the patient but also for the practice as it has a huge impact on reducing reception time and ensuring clinical staff have the information they need at their fingertips.
Tasks list to stay organized
Day to day it can be busy, and so often things may get missed. Dental practitioners can easily assign, track and undertake tasks with Tasks Report in Dentally, improving patient communication and practice admin management, as well as managing staff workloads whether they are working remotely off-site or at the practice.
Dentally Chat to connect your team
Our instant messaging system supports dental practitioners and their teams to communicate easily with one another, helping practices save time and run smoothly and boost morale as it keeps your staff connected.
Automated Patient Communications
Automating your patient communications ensures you save time and never forget to send an invoice or appointment reminder again! Importantly, it is simple to set up, allowing you to send messages to patients that can be scheduled around certain events such as appointments, creation of invoices or estimates. Stay connected to your patients, help build loyalty and reduce reception time.
Waiting lists
It is essential when optimizing your practice's efficiency that you are able to easily track and report on patients that are waiting for an appointment. Dentally Waiting Lists is a simple tool that helps you fill cancelled appointments with priority patients, manage your lab work and allows you to track patients that have an urgent need for an appointment or examination.
Smarter reporting
Dentally provides some powerful real-time reporting tools that support you in ensuring your business is running effectively. For example; the chair utilization report and practitioner activity report, are just two that can help you manage your practice finances. Plus there are several other reports within Dentally that can help you market your practice, reduce your lapsed patient list and much more!
Talk to our team
It is important to look for software that not only works for you now but also in the future, because as you grow your technology should scale with you to support your dental practice. Dentally can help you optimize your workflows, fill your appointment book, help your team and stay connected to patients – so you can really benefit from an agile solution that enables you to deliver the best possible dental care. Talk to our team today to find out more.