In this second instalment of our new perio exam series of articles, we are going to investigate more of the changes you can expect to see in Dentally with our intuitive new perio design. Today we are going to talk about comparing perio exams, looking at why this has been implemented and how this works in Dentally. As mentioned in part 1, all our changes and redesigns have been directly driven by our customer feedback and by working with our users.
Our product and development team have worked closely with multiple sites across the country to gather feedback and clinical experience and turn this into actionable projects to improve the use, performance and simplicity of Dentally. We understand the importance of using a patient's perio examinations as a communication tool to educate and display the benefits of good oral health and how comparing perio exams against each other can assist with helping patients to identify problem areas or improvements.
Our new compare function gives you the ability to overlay two selected exams at once, clearly highlighting areas of improvement or decline. A perio exam can be compared easily against any previous exam, meaning you can compare over several years if needed. At Dentally we want to help improve your workflows and make your daily lives easier, so on top of comparing examinations we have also added the function to rename your perio exams, which will help in identifying key stages of your patient's progress. This all works directly from the perio screen, so no need to worry about swapping to a new part of the software.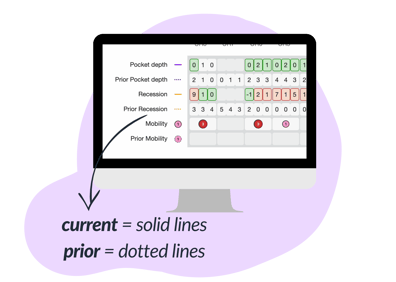 This means that next time you are in surgery, and you need an overview to see the progression or regression quickly for the patient, you can now simply find the named entry, instead of clicking through the dates trying to find the correct exam to compare to. You will be able to see both exams on the screen at once for a clear concise overview of the two, making your perio workflow better than ever.
Because of your feedback, we have been able to gain a greater understanding of the features you want to see in your Dentally app, these intuitive changes have all been designed and implemented for you to actively be able to see improvements in your day-to-day workflows.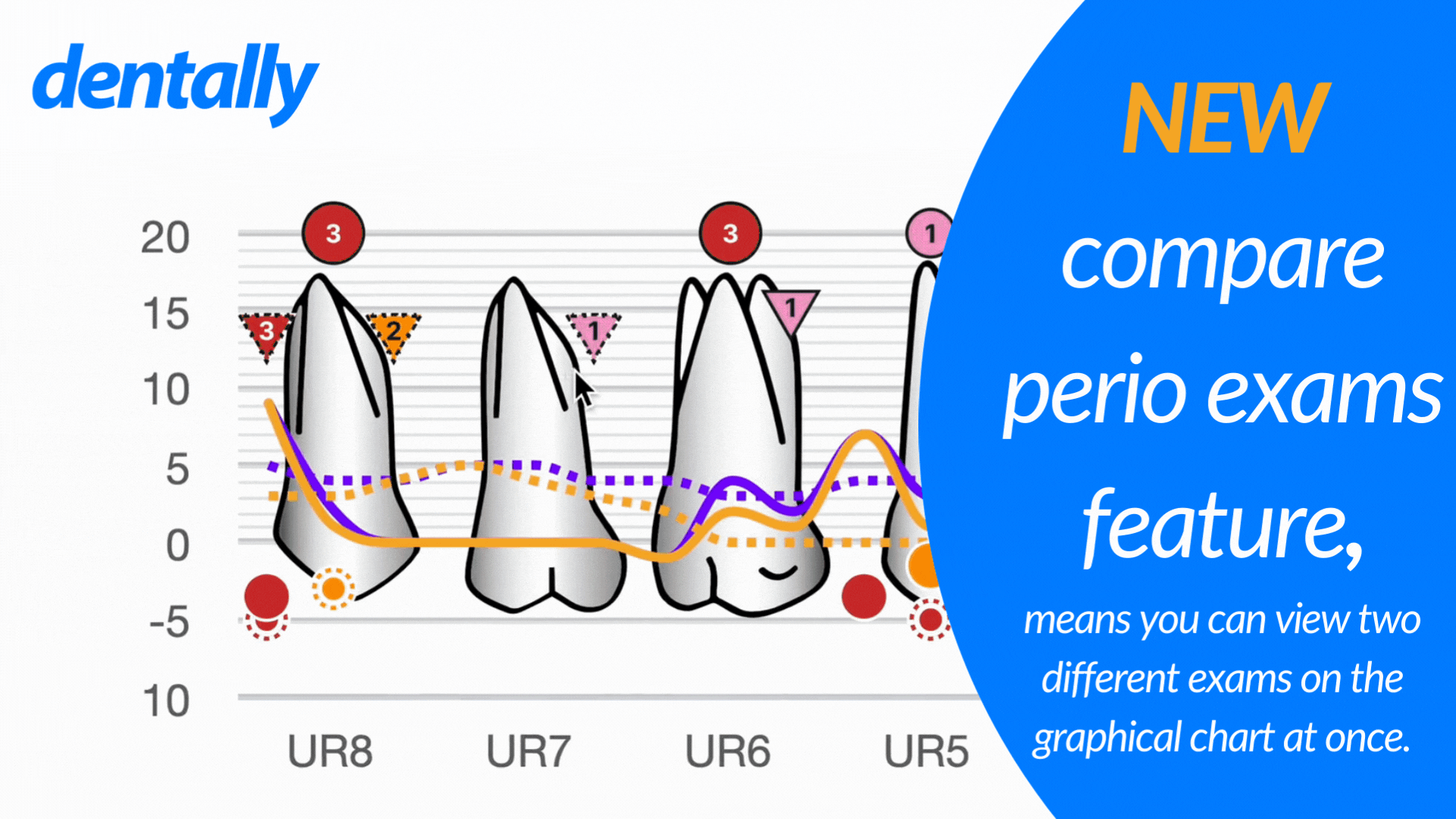 Stay tuned for our third and final instalment of this Perio exam series, where we will delve into the final changes made in Dentally's new Perio exam. Take a read of our last perio blog here where we delved into how we are making the patient dentition clearer.
Take a look at our help articles for more details around the new perio exam:
https://help.dentally.co/en/articles/3565934-charting-a-perio-exam
https://help.dentally.co/en/articles/6205931-comparing-perio-exams
https://help.dentally.co/en/articles/6404356-adjusting-perio-exam-view
https://help.dentally.co/en/articles/6404493-adjusting-perio-exam-settings

If you have any further questions, please reach out to the support team for assistance.