This week in the final of our trio of Supporting you in Dentally series of blogs, we will be talking to all you practice managers out there. The all-important glue that bonds together all areas and teams of the practice and keeps everything flowing seamlessly.
Being a practice manager, hereafter referred to as a PM, can be an all-consuming job. At Dentally we want to help take away some of your pain points from the everyday running of the practice. By using the tools that are readily available at your fingertips you can rest assured you will get time back to focus on yourself and your team instead of the never-ending pile of admin.
Being a PM has always been a tough task but in today's dental climate the workload has doubled, and time seems to have disappeared. We can see how hard you are all working to ensure full diaries, up to date reports and on-time finances. We wanted to share some of Dentally's helpful features to ensure you are utilising your software to its fullest potential. These tips will help you save time and automate some of those menial tasks.
Paying associates correctly in Dentally
Finances play a huge role in the running of any practice. and one of the main roles of a lot of practice managers is sorting out monthly what you are due to pay your associates at the practice. With Dentally you have a variety of financial reports available all of which will look at your figures in a different light, so make sure you are using the correct reports for what you are looking at.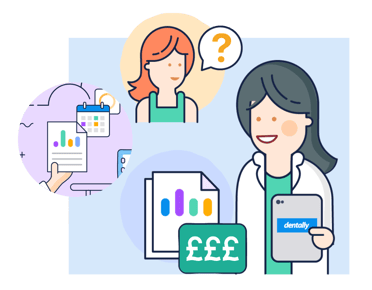 The most reliable report you can use to pay your associates by will be the Income Report. You can use the Income Report to work out how much income each practitioner has brought into the practice, and how much you should therefore be paying them. It's important to note that the Income Report calculates income based on work charged, and invoices which are fully paid for the selected period. Meaning you are only paying associates for the work they have done and that the patients have paid for.
Whereas the Takings Report for example will show you all the payments recorded in Dentally for the same date period. Just remember each report is looking at something unique which is why you will see differences. In our example, if you see items on the Takings Report, that you cannot see on the Income Report, it is going to be because the item has not been paid in full yet by the patient. It will only show on the Income Report once the patient has paid off the invoice in full. This is why paying associates from the income report in Dentally is recommended. This way you will not be paying your associates until your patients have paid first.
Automating tasks in Dentally
We understand that as a PM you may often feel that your time at work flies by far too quick, there never seems to be enough time in the day to get all the 100 and 1 jobs done that need to be completed. So, make sure you are using your time wisely. Do not waste any more time on rerunning patient lists or manually sending recalls every month. Stop daily reminder sending and instead let your software do the arduous work for you.
Dentally has a wide range of automation features some of which can save a lot of time in practice, and the Reminder and Recall automation features are the biggest time savers if used currently. At Dentally we do have a recommended best practice set up for your reminders and recalls, however, this can be adjusted to suit your practice needs as we understand no two practices are the same. Our best practice setup has been used across hundreds of sites and has delivered positive results which is why we recommend starting here.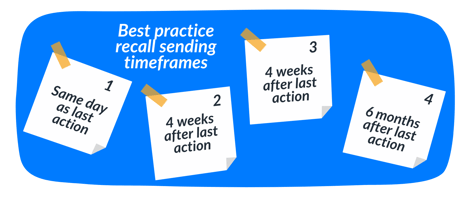 You will see here the recommended setup to start with. If you are unsure of how to implement this then head here to our help article on how to set up automated recalls. Alternatively, start a live chat with our support team today directly from your Dentally app.
Your Patients Journey
Our last tip of the day is to do with your patient's journey and the experience that they receive from the practice, from start to finish. Dentally provides you with lots of tools to improve and work on your patient experience, Patient Portal, Online Booking, and integration with review tools such as Working Feedback and more. But today we are looking at something a little more personal. Morale and Motivation.
When we think of patient experience, it is not only about the modern technology and new features you can bring to their lives through Dentally. It is about the experience from start to finish, your team and staff have a direct impact on your patient's journey. As a PM it can often be challenging to manage your own workload as well as that of those around you.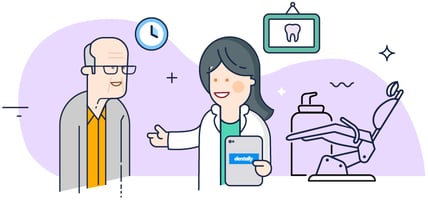 By using Dentally's innovative tools as discussed above, you can relieve some of the pressures from your daily working routine and instead infuse your team with more motivation. Positive morale in the workplace has a much stronger impact than we often give it credit for. When you walk into a room of happy people you feel it, and it's the same for negative emotions. Make sure your patient's positive journey continues for their time in the practice and does not end there.
A happy team equals happy patients, and as PM you can enable your team to be on the top of their game so they can deliver 100% of their best to your patients. By using tools such as Working Feedback you can even monitor through online reviews how this affects your patient's journey. Allowing you to read the experiences and even to grow and change as a practice from feedback that you receive.
I hope you have found some inspiration or actionable points you can take away from this blog series, and if you do have further questions or queries or have some content you would love to see on the blog, please do contact us at hello@dentally.co.