Dentally Portal is our platform that empowers the patient to manage own their contactless journey with your dental practice. Allowing patients to book online, complete pre-appointment forms digitally and pay any outstanding balance via the portal, it serves as a timesaving toolkit for your practice team whilst enhancing the experience you're delivering to your patients.
People can cancel and rebook appointments at 9 pm on a Sunday evening, that has been perfect for us. Dentally does the heavy lifting of the administrative work - it provides us with more time to be more human with our patients. - Carl Dunstan, The Campbell Clinic
However, that's not to mean that as a practice you lose any control over your diary. At Dentally, we know that every practice is different that's why you have the opportunity to configure the portal to suit you and your practice needs – be it customised branding, practitioner appointment durations or session control. Dentally Portal is designed to be moulded to your practice requirements so that you can truly get the most out of its time saving features – and who configures this is up to you. User permissions can be amended to decide who has editing capabilities and who has restricted access. You can read more about amending permission levels in our useful help article.
Your onboarding, your way
By cutting down on admin with processes that integrate seamlessly into your practice workflow, your team will have the time to dedicate to welcoming patients, easing any nerves and delivering an overall great service. And when you choose Dentally Portal this can begin from day one.
Our simple onboarding can be undertaken independently and is designed for a smooth transition, minimising any disruption to your practice. Once setup and configured, you choose how your patients access the portal, either: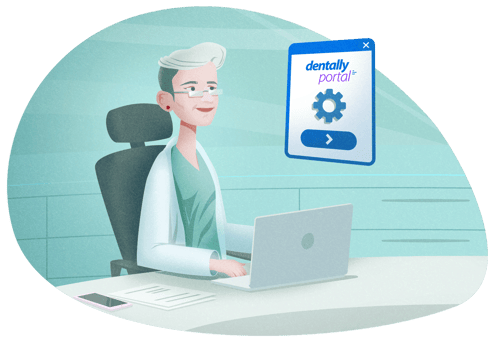 Via a direct link sent to your patients when they have something to action e.g. it's time to book their next appointment, review and sign a treatment plan or make a payment

Via a module on your website that lets them login and complete any actions at a time that suits them

Or both!
Whatever your decision, you can put your trust in the cloud as every aspect of Dentally Portal is completely secure. With two factor authentication required for login and secure payments enabled with our Stripe integration, you can feel confident that your patient and practice data is always safe with us – and with all data stored securely in the cloud, you no longer have to worry about paper forms being lost or filing cabinets running out of space, Dentally has it covered.
Talk to us about how you can revolutionise your practice team with just a few clicks using Dentally Portal.