As the Omicron challenge looms over the public sector and the risk of up to 25% staff absence remains prevalent, Dentally wants to ensure that you, your practice team, and your patients have the tools in place to cope with any unexpected periods of isolation. From late cancellations to working remotely, we can help minimise the impact the surge in infection rates have on daily practice life and help you navigate the challenge with practical tips.
Dentally helps your practice team, providing them with an extensive tool kit full of the necessary components to efficiently deal with isolation due to a positive COVID-19 case.
Maybe team members are isolating due to a positive test result but are asymptomatic, or perhaps they're caring for positive cases in their children or relatives. No matter the reason, if your team feel they are well enough to work from home - Dentally provides the solution.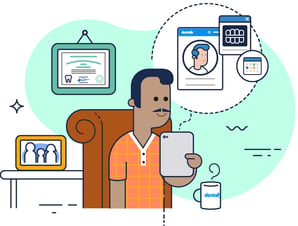 If you have staff who are high risk or if you are concerned about what else you can do to minimise cross-infection, reducing staff numbers that are working on-site can also help you ensure your practice runs smoothly but helps you to deal with the Omicron challenge.
Remote working
Dentally works as flexibly as you, and for that reason working remotely with our cloud-enabled practice management software is simple. Team members who are self-isolating and feeling well enough (or that you have decided to reduce staff numbers on-site) that they still want to work can do so with Dentally.
With the correct permission settings, your practice team can easily and securely access Dentally from home, meaning they can triage appointments, organise diaries and communicate with patients - even when they are self-isolating.
Outbound telephone calling
With remote working, practice team members can make calls within Dentally, directly from the patient record so any appointments that need rearranging or rescheduling, staff absences or patient isolations that need actioning, can be kept up with and completed - keeping the practice running smoothly.
Effectively keep your patients in the loop with practice goings-on and telephone triage patients from home with our outbound telephone calling. Click here to find out more about outbound calling within Dentally.
Automated communications
Automating patient comms will save you and your team time. Dentally has an array of communication templates for you to use to send out and update your patients. These can be used as an excellent tool of reassurance, ensuring your patients know your current COVID-19 practices so they know they will be safe attending appointments with you in the face of the new Omicron challenges.
Team members can still update and send out automated communications from home so they can tick things off of their to-do list, and your patients will remain updated and confident in your practice - increasing patient loyalty and the returnability of your business.
Dentally Chat
Dentally understands that self-isolation can be a lonely and frustrating time. That is why we have tools in place to ensure that your team can still work from home if they want to. Another way in which we do this, ensuring your team remain connected with practice goings-on and made to feel like they are still part of the team, although not on-site, is with Dentally chat.
Dentally Chat is much like Whatsapp or Messenger but for work. Team members can make requests, chat with one another and keep up to date with any practice updates - remaining connected whether they're on-site or working remotely. Read more about Dentally Chat and how it can be used with task lists here.
With Dentally, you can be sure that you have an excellent tool kit that is flexible, manageable and efficient. So whether your staff are isolating but in a position to still work or it would be better if they could work remotely to reduce contact with patients and minimise the risk of cross-infection, your team can work remotely and stay connected. Speak to our team today at hello@dentally.co to find out more.