In the fast-paced day of a dental practice, efficient and streamlined processes are crucial for delivering exceptional patient care. That's why we are thrilled to bring you the redesigned, Book Together feature. Transform your appointment scheduling experience with this new simplified process that makes life easier for both dental practitioners and their patients.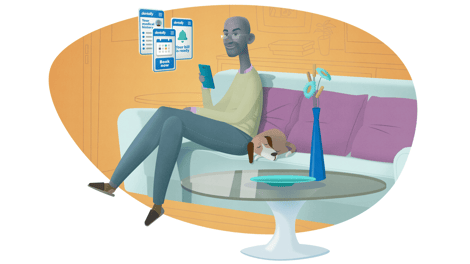 Let's take a look at some of the ways Book Together can revolutionise the way you book appointments and recalls at your practice:
Enhanced Convenience and Seamless Booking – Empower your patients to conveniently search for adjacent slots, enabling them to book their routine appointments on the same day. No more fragmented schedules or multiple visits.
Optimised Resource Utilisation - Optimising resources is vital for running a smooth Dental practice. Book Together allows you to maximise your efficiency by aligning appointments in your diary and minimising downtime. You can fill the white space in your schedule and reduce idle periods, ultimately allowing you to see more patients and enhance the overall productivity of your practice.
Customisable Settings for Personalised Experiences - Flexibility and customisation ensures you can meet the unique needs of your patients. You can define the minimum and maximum gap between appointments, allowing you to tailor the booking process according to your preferences.
Alignment with NHS Allowances - For dental practices operating under NHS Scotland, Book Together takes into account the NHS allowances. It will not search for appointments before the due date, preventing any booking conflicts and ensuring compliance with NHS regulations.
By streamlining the booking process, this feature ensures convenience for patients and optimises resource utilisation for dental practices. The result is an efficient, productive, and patient-centric practice.
How to turn on Book Together?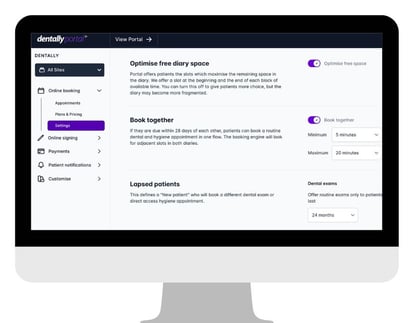 To activate Book Together on your Dentally Portal admin panel, head over to the Online Booking option and choose settings, on the left-hand side toolbar. Toggle the Book Together option on and choose your preferred gap between appointments.
At Dentally, we are committed to embracing technology and innovative solutions to help you deliver exceptional patient care and experiences. Elevate your efficiency, improve patient satisfaction, and take your dental practice to new heights.
Embrace Book Together and unlock the full potential of your dental practice today! For more help head over to our new help centre article or get in touch with our support team via Live Chat in Dentally.