The final lesson of our Summer school series sees us delving into the Dentally chart screen.
We know that efficient charting is crucial not only for accurate treatment documentation and streamlined surgery workflows but for ensuring an exceptional patient experience.
Dentally's charting features continue to evolve as our development team is hard at work implementing new features, incorporating new enhancements and introducing new smart tools to make your life easier. In this blog, we'll explore the recent updates, including new Perio charting, extraction icons, and x-ray grading.
New Perio Charting
Dentallys improved Perio charting capabilities allow you to record periodontal measurements easily and compare examinations easily against each other. The enhanced Perio charting enables detailed tracking of gum health, all presented on an easy-to-view guide.
Monitoring periodontal progress and providing targeted treatment plans for your patients, has never been easier. You can use the comparison feature to view progress and regression over time and use the viewing filters to easily explain the results to your patients, ensuring they have a comprehensive understanding of their own oral health.
New Extraction Icons
Dentally's updated extraction icon was introduced recently, making it simpler to indicate extracted teeth and record relevant details. These tooth icons help maintain accurate dental records and facilitate treatment planning. The original cross icon being replaced by a partial cross provides a clear visual representation of extractions on your patient's chart screen.
New X-ray Grading
We know that radiographs play a crucial role in diagnosing and monitoring oral health. The new x-ray grading options enable you to annotate and classify radiographic findings accurately, using the 'Clinically Acceptable' and 'Not Clinically Acceptable' grading options. Grading your radiographs also ensures you can use the radiograph report in Dentally. The report will indicate the percentages graded as Acceptable and Not Acceptable against the standard 95% target in an easy-to-view bar graph.
Top Tips to Maximize Charting

To make the most of our smart tools during charting, consider the following tips:
Familiarise yourself with keyboard shortcuts! We offer various keyboard shortcuts to speed up charting, especially Perio charting. Explore the available shortcuts in the Dentally Help Centre and practice using them to save time and streamline your workflow.

Utilise customisable templates. You can take advantage of our customisable charting templates. Create treatment plans and clinical notes to suit your practice needs that can be used repeatedly. Leveraging these customisable templates can enhance workflows, consistency, and efficiency in your charting process.

Leverage charting smart features. Our charting smart tools, such as auto-save, hover chart, and condensed charting, are designed to simplify your charting experience. Familiarising yourself with these features can both simplify and streamline your surgery workflow.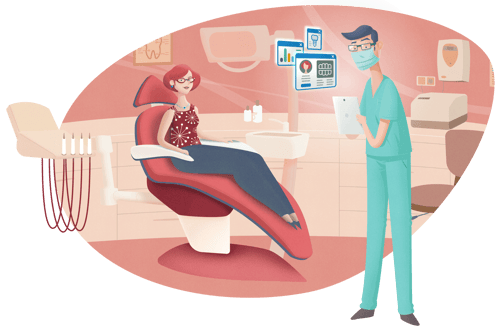 By staying up-to-date with Dentally's charting enhancements and using smart tools effectively, you can elevate your practice's efficiency and enhance your patient experience. For detailed information on utilising these features, consult our Dentally Help Centre.
We have reached the end of our 2023 summer school series! We hope you have found something in the series to help make your daily practice lives easier. Continue the conversation and build on your own knowledge by booking a call with one of our Elevate Customer Success Consultants who can help you get the best of our software, optimise your charting workflow and help you achieve your business goals.
Find out more about our Elevate programme and book a call with our Elevate team today.