There are some changes to the NHS coming over the next month and we want to ensure you and your practice team understands how these changes work in a complete cloud solution like Dentally.
As you may know there have been some recent updates to the NHS claim submission screen in Dentally. These changes have been introduced to ensure we are meeting the latest advice from the NHSBSA. Learn more about these changes by heading over to our help article here.
There will also be an NHS fee increase with effect on April 24th for NHS England. This increase is a routine annual adjustment that helps to keep up with rising costs throughout the current cost of living crisis.
Dentally will automatically update these fees for you. This means that you won't need to manually update anything yourself – just sit back and let Dentally take care of it!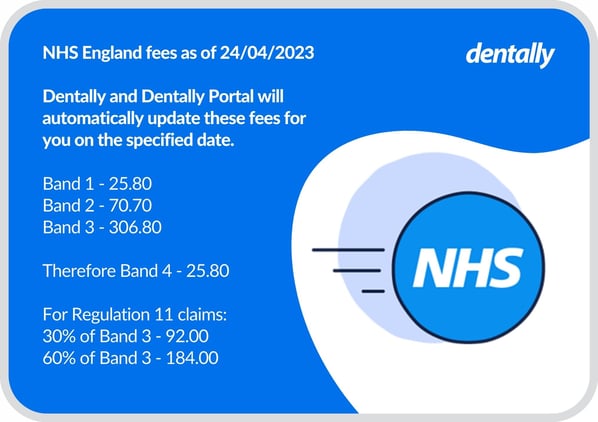 We know that these changes can be a bit overwhelming, so we wanted to make it as easy as possible for you to keep your practice running smoothly. With Dentally, you can rest assured that your practice is always up-to-date with the latest NHS fee schedules and regulations.
If you have any questions or concerns about the upcoming NHS fee increase or how Dentally is handling the changes, please reach out to the support team via Live Chat in Dentally