As we continue our 'Summer School' during July and August, where we provide a weekly reminder of some useful ways to help you get the best out of our software - this week we continue to explore our Help Centre and pull a couple of clever tips that you might find useful on a day to day basis!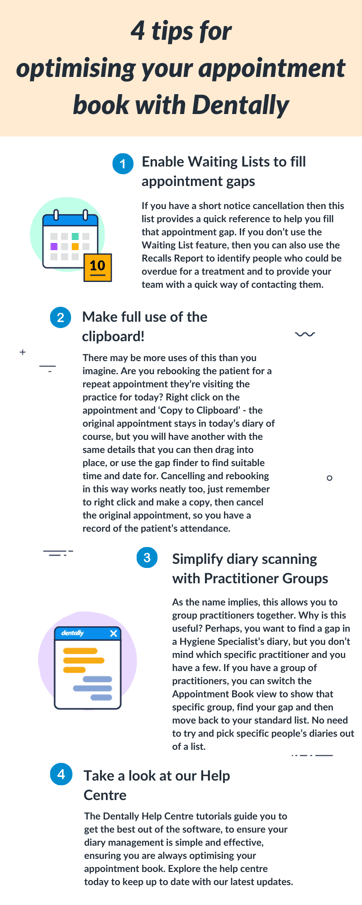 This is week four of the series, and today we take a look at appointments and the calendar! Take a shortcut here.
Optimising your appointment book has always been critical to running your dental practice smoothly, but in recent times the adding challenge of short notice cancellations due to COVID-19 isolation has heightened the importance. With late cancellations from patients leaving gaps in your diary, having software which has a workflow in place that can help you fill these gaps is important. Indeed you may well have practitioners that are unable to see patients as they may also have Covid, so again being able to have a good understanding of the appointment and diary tools can help you manage your patients no matter the challenge you are presented with.
This detailed section in the Help Centre has some great information from how to monitor and track appointment cancellation reasons to allocating your appointment book, booking in families, printing day lists and updating annual leave.
We also cover things like what to do if you do have a practitioner off ill at short notice. You can simply manage this with our bulk editor feature. You can learn more here but essentially you can create a list of patients that need to be contacted quickly and then create an SMS or email to all of these patients to rearrange their appointment in just a couple of steps.