In line with the increase in Wales patient fees and clinical data set changes, we have now added these to Dentally in preparation for 1st April 2020.
The new patient fees for Wales are:
Band 1 – £14.70
Band 2 – £47.00
Band 3 – £203.00
Regulation 11 – £60.90/£121.80
In addition the new clinical dataset options have also been added to the software. These include the addition of the following treatments:
Toothbrushing Instruction, Inter Dental Cleaning and Plaque Retentive Factors
Metal Denture
Prevention and Stabilisation
Onlays
Pre-Formed Crowns
Advanced Perio Root Surface Debridement
The above dataset items can only be used on new courses of treatment started on or after the 1st of April 2020.
In line with the changes the following clinical dataset items have been removed from Dentally:
Scale and Polish
Upper Denture Metal
Lower Metal Denture
Inlays
Antibiotics
Best Practice Prevention
The above dataset items can only be used on courses or treatment started before the 1st of April 2020. If one of these codes is charted on a course of treatment that has been started on the 1st of April or later Dentally will automatically convert it to the new clinical dataset where possible. For example; an "Upper Denture Metal" charted on the 1st of April will be displayed as "Metal Denture" in the clinical dataset summary sent to the NHS. The clinical dataset summary is displayed on Step 1 of each claim you submit to the NHS.
As your treatment list is specific to your practice we recommend that you should review your existing treatment list to update the NHS Treatment Category on your existing treatments where required. You may also need to create new treatments where appropriate.
The NHS Treatment Category for each treatment can be changed in the treatment settings on Dentally.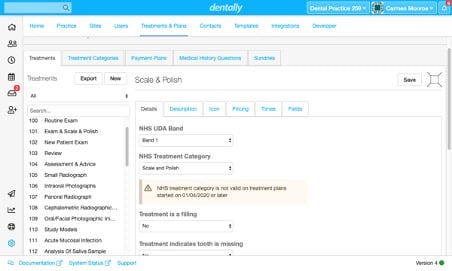 If you have any queries on the changes for the NHS in Wales, then please do speak to our Support team or email hello@dentally.co