The latest software updates this April
This April, we are pleased to announce a couple of updates to our software including time zone fixes and improvements in how the plaque and bleeding are displayed in your clinical history. Plus, Dentally Portal has introduced more time-saving features that simplify the process of using the portal for your patients.
Stay up to date on all the changes this month by reading the full changelog for April 2023 on our help guide here.
---
In other news...
🚨 Calling all NHS Dental practices 🚨
There are some changes to NHS England coming over the next month and we want to ensure you and your practice team understands how these changes work in a complete cloud solution like Dentally. Head over to our recent blog here to take a read of the important changes happening in April.
We are attending Dentistry Show Birmingham this May! 🦷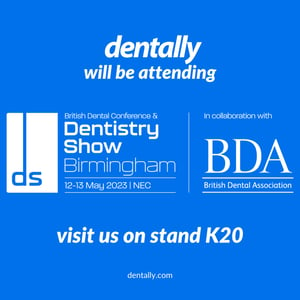 The Dentally team will be available throughout the event on stand K20. During the two days you can listen in on live talks from industry professionals and meet likeminded individuals from across the country.
Our team will be on hand to answer all your questions, Just remember to register your attendance at the event online here.
We look forward to seeing you there! In the meantime get in touch with the support team via Live Chat in Dentally with any questions.