As we welcome in the new year, the Dentally Elevate team are ready to help you streamline your processes and increase your revenue during 2023. Our Elevate consultants are prepared with the tools and knowledge to show you how Dentally can support you every day to achieve your business goals.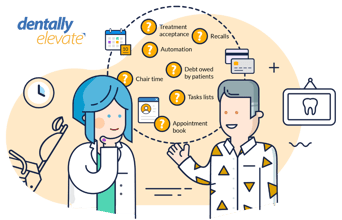 We have been working over the last 12 months on growing our Elevate team, our consultants have worked with practices across the country to show them how to get the most out of Dentally's tools and features. Head over to our Meet the team blog here to see the faces you will be speaking with as part of the Elevate program.
Elevate is a no-strings attached opportunity for you to have one to one conversations with an experienced consultant. They will begin by tailoring a programme to fit your needs and goals, and we work with you to help you build and develop your practice. We will help you set realistic, achievable, actionable points, and will support you along the journey.
Think about what you want to achieve this new year. You can start small or go big, it's entirely up to you. Head over to our blog here to read all about the beginning of your Elevate journey with us. This is your program and is included in your support fees, take advantage of your customer success Elevate program and collaborate with the team today.
Get in touch with us here to book in with a Dentally Elevate consultant and let us know what you want to achieve in 2023.