At Dentally we appreciate that time is a very precious commodity, and lightning fast real time reporting is important so that you have all the data you need to hand. This week in our Summer School tour of our Support Help Centre, we took a look at our reporting section.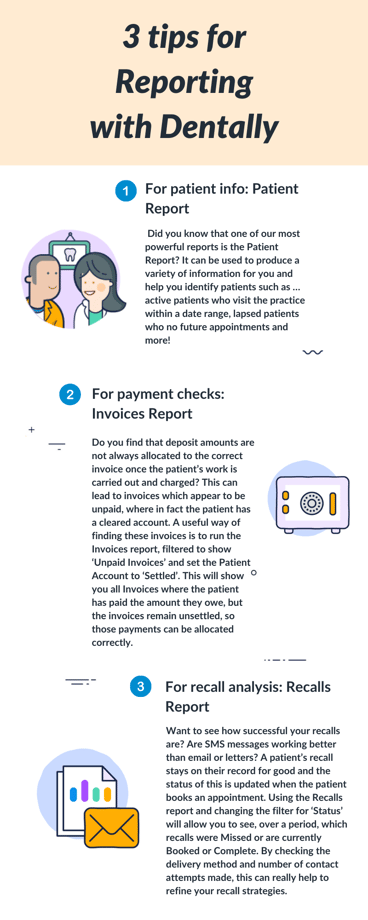 The reporting part of the Centre allows you to learn more about all the powerful reports in the software that provide you with either a snapshot in time or more in depth insights into your practice whenever you need it. You can take a short cut to the tutorial guides here.
In our reports we can provide you with extensive information, with a suite that covers all aspects of your practice from practitioner activity and allocation, patients report, appointments, takings, income and so much more.
We have also included some articles that look to answer some of your most frequently asked questions such as?
How do I view practitioner productivity?

How do I check online payments?

How do I run a report on waiting times?

How do I find all my new patients?

How can view takings for a certain treatment?

How can I see what I am due to be paid?

How do I identify lapsed patients?

…And so many more…
Data is key to running any successful business, so it is important to take a closer look at the valuable insights that sit within Dentally for your dental practice. Talk to our team if you have any questions or reach out to learn more about customer success through our Elevate programme.