At Dentally, we are continuously working to bring practices everything they need to run their practice more effectively - that's why we've developed approved and regulatory-compliant processes within our software to make managing your NHS Northern Ireland contract fuss-free.
In today's blog, we are going to be breaking down just a few of the features we've built in to streamline your working practices and give you more time for what matters, patient care.
Claim submission
Designed with the busy practitioner in mind, submitting NHS claims are quick, easy and more importantly, user friendly!
Once a course of treatment has been completed, there is a button to submit the claim on the patient's chart. Dentally will pre-populate your claim with as many details as possible such as the patient's health and care number if previously known. All you need to do is check everything is correct whilst adding a few mandatory details such as the practitioner you're claiming for and the contract it should be submitted against.
Once submitted, claims are easily trackable via the patient's record or the NHS reporting available within Dentally, which we touch on later in the blog – any invalid claims you will be notified of and can amend and resubmit with ease.
Prior approvals
We know that prior approvals are only necessary on a case-by-case basis, that's why we want to empower your practitioners to make the decision whether to submit a prior-approval only if they feel that the treatment qualifies.
To assist this process, Dentally enables you to easily set and adjust the tier limit of each provider, allowing your team to receive a friendly nudge when charting if the treatment total falls over this set limit or has been set as a treatment that always requires approval. However, when notified, it is still ultimately your team's choice whether to act upon this and request prior approval.
To find out more about the process of submitting your NHS Northern Ireland prior approval claims through Dentally, visit our Help Centre.
Reporting
Whether you're looking for a snapshot of your outstanding claim status or to drill down further by date, NHS reporting within Dentally gives you all of the essential filters to track your progress at the click of a button. You just set the parameters.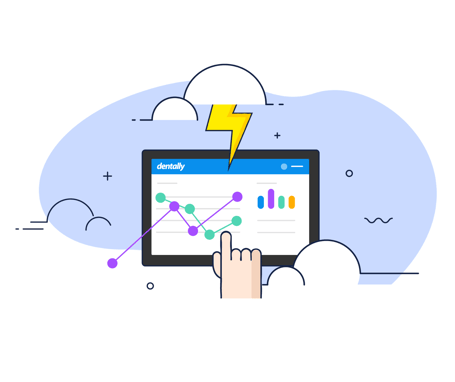 Date allows you to search by Claim Submission date or Treatment Completion date
From & Until allows you to choose a specific time frame that the claim was submitted or completed in

You can use the Practitioner filter to narrow down which dentists you are reporting on

Status allows you to view all claims under one specific claim status

The Prior Approval Status works in the same way

Lastly the Contract filter means you can view all claims on a specific contract if you have more then one
Flexibility is at the heart of what we do, so with additional features allowing you to 'favourite' your most used filters, enable reporting features based on permission levels or export a copy of your reports locally to be opened in Excel – you can customise your use of Dentally to suit your practice and team's preferred workflows.
We know that regulations are constantly changing but you can feel rest assured that our team will keep you in the loop via our monthly changelog on how we continue to support you both through product innovations and best practice advice. Take a look at April's changelog to see just a few of the recent additions we've made with Northern Ireland practices in mind.
Find out how you join the cloud revolution or switch on NHS functionality today by getting in touch with our team, book a call today or visit our dedicated NHS Northern Ireland Help Centre to find out more.