We can help make your lives easier, by giving you one less thing to worry about! Work with our team to elevate your practice with our customer success programme.
We know how time-consuming it can be to stay on top of all the admin that is required in the day-to-day running of a dental practice. Make your life easier by talking to our experienced team who will help your practice stay ahead and manage the challenges you face.
We wanted a way to ensure we can stay in touch with our customers to support your business needs when it matters the most, whether this is automating your patient communications, increasing practice efficiency, reducing costs or more - join our Elevate Customer Success Programme and work with our team today!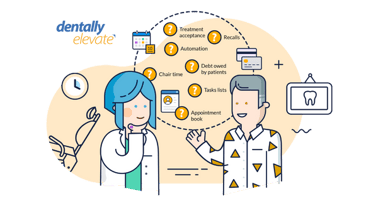 If you haven't already heard of Dentally Elevate. It is a free-of-charge service, where we offer one-to-one support to help you not only understand how to use and utilise your software, but also make sure you are getting the most out of what Dentally can do for you. The Dentally app itself is vast, and there are often areas that you may not have used or benefitted from yet.
We all get stuck in the same daily routine, and sometimes we find it easier in the moment to stick with what we know, instead of adventuring out of our comfort zones to find easier ways to do the little things. The trivial things that for some reason always seem to take the most time.
Being part of Elevate means you will get a customer success consultant who will be your main port of call to discuss any goals you have for your business and how we together are going to achieve them for you.
Elevate focuses on a few key areas that often get overlooked due to dental teams instead focusing on customer care and experience. We want to make sure you can continue to deliver exceptional care to your patients and run a successful practice. Our team of consultants will work with you to ensure you are using our best practice techniques across Dentally in areas such as - Recall Efficiency, Patient workflow, Automated patient communications, live reporting and so much more.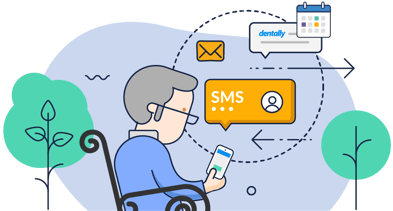 Recall Efficiency is a big one in today's post covid world. You are not alone if you still have not caught up with your backlog of failed, missed, or cancelled recalls from the last two years. It is a fire-fighting industry right now, and a lot of practices using Dentally are not utilising our automated recall system or if they are, it always isn't set up as proficiently as it could be.
By automating your recalls, you would not only free up reception time, but you would also ensure you are consistently chasing patients that do not respond to your initial communications. The automated system allows you to set how periodically you want to contact your patients. We do have a best practice setup for this that we can implement for you however this is completely customisable to your needs.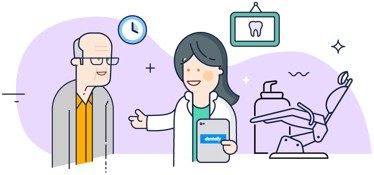 Another example of how we can help save time and increase efficiency is by fine-tuning your patient experience. We live in a modern world where people expect modern things. And dentistry is quite often still a little behind the times. With Dentally however, we are here to help elevate you into the future. We can help set up automated reminders and confirmations for patients with existing appointments. Meaning no daily calls to your next day's appointments as they will already have been reminded via either SMS or emails. As well, if you have them, show you how to set up and use your online booking and patient portal effectively
These features and products have been created to help make your lives easier. We want you to allow us, to help you achieve your goals. Think about where you want to be as a business in the next 3-6 months or what you want to know more about on Dentally and book in for your Elevate kick-off call today.
To find out more about Elevate or to enrol yourself today and book in for your Elevate kick-off call please head here.
Or if you have any questions or queries then please do email us help@dentally.co