We are delighted to announce that our e-Ortho integration for NHS Scotland and new Orthodontic assessment forms for dental practices across the UK is now live.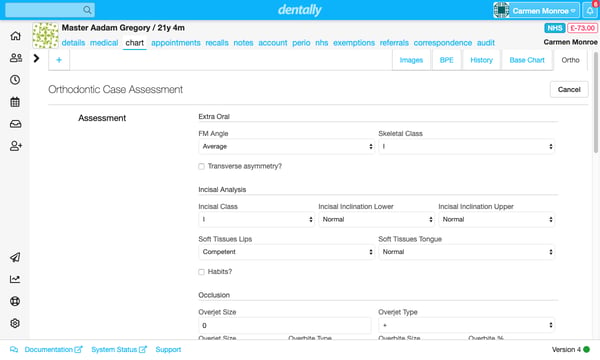 Dentally's latest product development is the design of a new orthodontic feature, whereby assessment data can be recorded within the software.
This new workflow was originally part of the process for our Scottish customers to submit prior approvals and claims for orthodontic work through its e-Ortho integration with NHS Scotland, but the work undertaken will benefit all Orthodontic dentists and not just those in Scotland.
The new stand alone orthodontic module allows for assessment data for values such as overbite and overjet information, recorded by a certain practitioner (and date/time) to be held in a form on a separate tab within Dentally - making it easier to record the data from the outset and track the patient's progress at each stage of their treatment.
The workflow is a simple, you just go into the patient's chart and open a treatment plan and chart as normal. You then click on the ortho tab and create a new assessment. It will highlight mandatory fields and when all of the fields are completed, you select save and the information is retained in the ortho tab in Dentally.
If you are working in Scotland, then claims can be submitted in two stages and full details of how to do this can be found in our Support section. Read more here.
If you would like more information on this, then please email us hello@dentally.co with your queries. Remember over 7,000 dental professionals are already working smarter, working remotely and working securely with Dentally, so why not book your demo today.