This month we have been working on a number of new features and product enhancements.
These include changes to the default email domain, improvements to the treatment pricing and the Takings report - plus much more!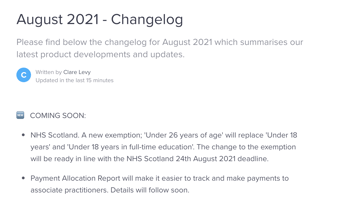 COMING SOON...We also have a number of exciting new developments in the pipeline including further changes to the email tools that will allow you to save drafts and add attachments, a new payment allocation report and a brilliant new precision login to our Patient Portal!
Keep up to date today, by reading the full August 2021 Changelog. Find it here