Living with a global pandemic over the last 12 months has heightened the importance of a seamless digital patient journey through your practice - so you can protect your staff and provide your patients with the care they need to maintain good oral health.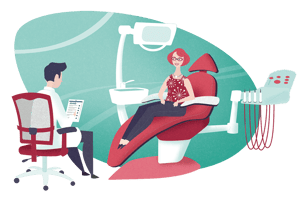 Patients are naturally going to be feeling slightly apprehensive about visiting a dental practice as they determine whether it is safe to do so. Implementing dental practice management software that fits your practice around your patient's needs is now a critical factor in your practice's successful day-to-day running.
Patients must be confident that they can visit their dental practice safely - and that requires more than PPE and social distancing, it demands every aspect of their interaction for an appointment to be simple and smooth. Measures that reduce their contact with non-clinical staff are particularly important in providing the best possible experience before they arrive and after they leave.
Dentally's cloud-enabled software fits your practice around your patient's needs allows you to stay on top of your admin and in control of your dynamic diary - from easy to use calendars, contactless reception tools, patient portal and secure payment links - your patients can expect an exceptional and safe experience.
Empowering patients
Let's explore some of those important stages of your patient's journey with you. Dentally online appointment booking allows your patients to view, book, manage and cancel appointments 24/7 - so they can book at a time to suit them in line with your practice's settings.
Dentally Patient Portal transforms how practices manage their patient journey and reduces face-to-face contact with non-clinical members of staff. Patients are empowered to take care of their oral health and manage their journey with you themselves. They can update their medical history, review and sign treatment plans and consent forms, update their contact information and pay outstanding balances. Take a look at our blog to find out more.
Communication is an integral part of the process, reassuring patients of the safety measures you have in place and advising them of new procedures - so they know and understand what to expect when they visit.
Automating your patient communications can help streamline this process - allowing you to set up and schedule messages that are triggered based on certain events such as appointments or the creation of invoices or documents which require their signature. Tailor your communication based on your patient's visit and ensure they receive everything they need to safely complete their journey through the practice. To see how this feature could support your practice, click here or if you would like to set this up, read the support document.
Introduce a contactless reception
There has been much said in the dental press about contactless reception tools over the past few months, and getting this right is essential in retaining patient loyalty and instilling confidence. Dentally's contactless reception features include online medical history, self-check-in and payment links, all of which sync with the patient's record in Dentally without fuss.
Medical history can be completed using a unique secure link, which can be sent to as a separate SMS or email or can be included in your usual appointment reminders. The patient simply follows the steps, completing all the questions and upon signing and submitting, all the details appear in Dentally for the practitioner to review.
Upon arrival, the practice will need to reduce the number of people that are on-site and in the waiting area, the self-check-in features support this. Simply send the patient an SMS or email prior to their appointment time at the practice. The patient can click on this link and check themselves as they arrive on-site - informing your staff that the patient has arrived and is ready to enter the building.
Finally, upon leaving the surgery after their examination or treatment, the patient no longer needs to wait in the reception area to make a payment. They can depart the practice and a member of the staff can send a payment link through an SMS or email sent directly to the patient. (learn more) The patient can then settle their account, without spending physical time with non-clinical staff and in adherence to social distancing. Those payments are recorded automatically within Dentally and your team can still accurately cash up at the end of the day. Read more.
Safe and secure
Dentally's design and workflow can transform your practice to help safeguard your staff, improve workflow efficiency and provide patients with the care and attention they need. Simple to implement and easy to use, means that your staff have more time to spend focusing on patient care and delivering much-needed treatment.
Dentally can help you build a practice that can adapt to the needs of your patients now and in the future. Talk to the team today, to learn more or if you are an existing customer then please take a look at our Support area.