We've been very busy working on the next Dentally which will be in the hands of users very soon. The new Dentally is currently in private beta for some of our users and when it's ready, it will be a free upgrade for everyone.
Bulk edit appointments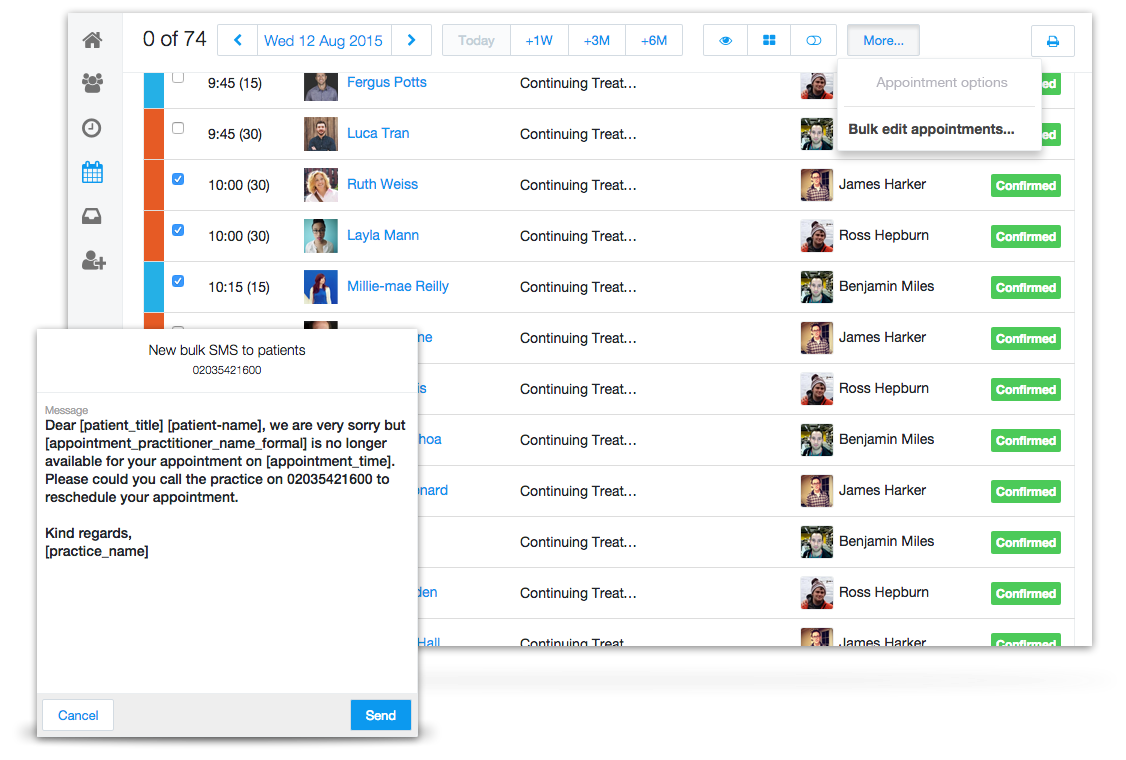 The new bulk edit view for the calendar in the new version of Dentally
The first thing you will notice is that the new Dentally looks absolutely amazing. Dare we say that it is the best looking dental software around. The whole UI has been revamped, we've updated the visual language but still maintain the layout and functionality that everyone is used to.
To enable easy bulk editing of appointments a new view was introduced that presents all appointments for the selected day as a list. From here users can click on the tick boxes on the left to select the appointments they wish to edit, or you can just select all then either bulk status change or send a communication.
This streamlines a whole bunch of different scenarios that were originally a little awkward in the old app. A great example is practitioner absence, if one of your practitioners is unable to attend the practice for a day, just hide all the appointments from other practitioners, select all appointments, bulk send an SMS apologising for the cancellation, then bulk edit the status to 'Cancelled'.
Bulk messaging uses the data-tags you're familiar with from your existing templates, so will come naturally to you saving a lot of time.
Everyone here is very excited to get the new Dentally out into users hands, but we just need a little longer to make it great. Keep an eye out for more updates coming soon from your favourite dental software company.
You can discuss this blog post on the Dentally forum.
All the best from the Dentally team,
Ben
Make sure to subscribe to the blog for Dentally updates and tips on running a great practice.