Delivering effortless answers fast using Dentally's smarter reporting function, is a key element of the software and we have been busy adding new reports to ensure our customers have the most valuable insights into all aspects of their dental practice.
Two useful new reports have been added to Dentally. Firstly for all NHS Scotland dental practices we have added a report called 'Daybook' - this allows dentists operating in Scotland to calculate the NHS income by dental practitioner within a date range. In addition it provides a summary and clear breakdown of private treatment fees and value and NHS Scotland treatment fees and value.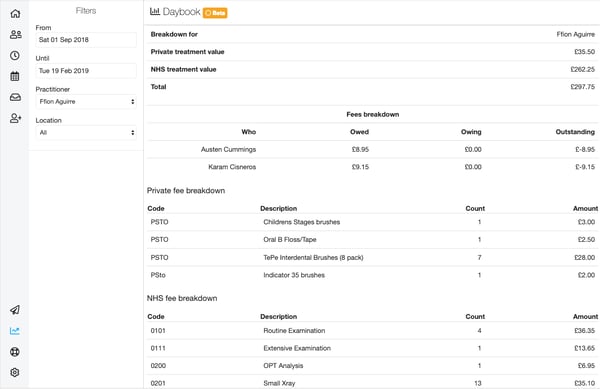 Secondly, we have added a 'Treatment plan' report which lists all completed treatments plans between dates, allowing you view all plans within a date range and filter the results based on the status of the items on the plan and the NHS claim status if appropriate. This allows dentists to review their plans and find any England/Wales and Scottish NHS work that has not been claimed. Users can also find open courses of treatment, regardless of whether they are part finished, not started and even treatment plans that have been finished but not closed. In addition it will help identify plans that have been accidentally closed without submitting a claim, making it a powerful reporting tool.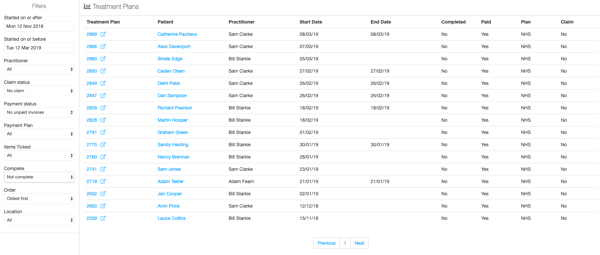 We haven't just stopped there...our developers have also made a few small changes to some of the existing reports within the system, so for example when a dental practitioner is running the 'Patients Report', they can now filter using the patient's NHS exemption. Plus within the 'UDA forecast' report we have made changes to include completed treatment plans, to provide a more accurate picture for the practice in terms of income.
If you would like to find out more about Dentally or arrange a demo and join the 4,000 dental professionals who work smarter, work remotely and work securely with Dentally, simply visit our website or email us hello@dentally.co