At the core of Dentally's ethos lies ease of use. Our cloud-based practice management is designed with the sole purpose to make practice processes simpler, everyday tasks easier and, team time optimised.
Reception tools provide an excellent way for your receptionists to utilise their time, improve their workflows and provide the best possible customer service to your patient's. After, all they are often the first and last face your patients see when they come to your practice. Providing reception with cloud-based software that allows them to excel within their role will benefit your business.
Let's take a look at the ways your reception team can use Dentally throughout the whole patient journey from the moment the patient steps foot into the practice through to their next appointment.
A contactless reception
Dentally's Patient Portal is a powerful tool that allows patients to fill out essential forms before their arrival. Once they arrive, your reception team can focus purely on providing the best customer service and ensuring everything runs smoothly from the moment your patient steps foot in the practice - making them feel at ease and ready for their appointment.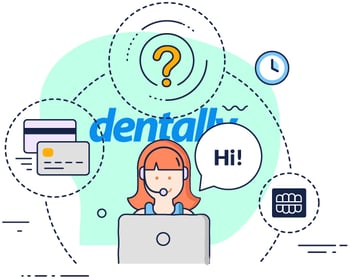 If patients cannot complete forms prior to arrival for whatever reason, the iPad app provides the perfect tool for your receptionist team to assist patients - taking out the added task of printing forms. All your reception team have to do is wipe down the iPad between uses.
Email, recalls and, reminders make it easier for your reception team to communicate with your patients - sending out marketing messages, important updates and anything else a patient may need to know when they are not in the practice. These methods provide communication that allows patients to book necessary appointments and sign up for any offers or promotions.
The waiting room app also allows for reception teams to easily notify practitioners of a patient's arrival helping them monitor appointments and ensure appointments are running on time.
Admin and Finances
Dentally understands that reception teams are incredibly busy - which is why we have made it easy for them to locate patients on the software. Patient details are displayed on one screen, accessible from the calendar/appointment book - making it simple for receptionists to check that the patient details recorded are correct.
Our Patient Portal minimises data input burdens by allowing patients to fill out details themselves - from contact details to correspondence preferences - your receptionists no longer have to worry about cross-checking spellings and are free to focus on other patient-focused tasks. We have already mentioned the Patient Portal payment taking tool but, you can read more about it here.
Don't forget outbound calls can also be made directly from the browser eliminating time spent finding correct numbers - just another way Dentally takes the stress out of everyday practice life.
Sometimes teams need to communicate with each other too, not just patients - Dentally chat helps keep teams connected whilst minimising the need to move around the surgery - think of it like Whatsapp but for the practice! Dentally Chat comes in handy when patients are running late or haven't arrived at all for their appointment, as reception can notify the surgery. Likewise, surgery can message reception asking them to add any sundries required to an invoice or any additional notes they feel the reception team should know.
Recalls
Maintaining your patient's oral health is incredibly important to your practice and providing exceptional service and a streamlined patient journey is too. Dentally's recall manager helps your team deliver both of these things. Automated recalls help to ensure that the practice diary is busy and that all chairs are utilised whilst saving reception teams time. Reception teams do not need to send emails, texts or letters to patients themselves - Dentally does it for them.
Automated recall messaging workflows means your patients will automatically receive updates regarding their due appointments, so they know what they need to book. Patient's are contacted via their preferred method of communication. From telephone, SMS, email to postal - no message will go unnoticed. Your appointment book will be full and, your reception teams can focus on delivering the best customer service to your patients.
Dentally is continuously striving to provide innovative cloud-based practice management software - making the lives of practice teams easier and the business itself more streamlined and successful.
Talk to our team today at hello@dentally.co to discover more about our tool kits and how they can positively impact the day to day life of your team.