As we continue our focus this week on how Dentally supports the work of the reception staff, this week we look at how Dentally supports a contactless reception. Developed in response to feature requests, but coming into its own in the global pandemic, let's take a look at how we maintain the safety of staff while continuing to offer a great patient experience.
At Dentally we understand what reception staff need. They are the frontline staff. They are the first and last point of contact for all patients. They are key to creating and maintaining a great patient experience.
Dentally's contactless reception features give them tools to keep them safe when dealing with patients while maintaining the great customer service your patients expect.
Using Dentally's self-check-in templates, reception staff can send patients a link so they can let you know when they are ready to enter the practice. Add the patient's medical history form, and this reduces the need for face-to-face patient interaction, keeping your staff as COVID safe as possible. Take a look at our suite of support documents about the tools for dealing with COVID-19 here.
Offering patients a way to pay their invoice using their unique payment link in an email, a text or via the patient portal not only saves time at a busy reception desk but also makes the whole process very efficient and simple. Our support document here will tell you more about how you use payment links.
Dentally's iPad app enables patients to sign their estimates and consent forms digitally, while in the waiting room. This saves reception staff time as they no longer have to scan and upload forms. It also means that patients who cannot, for whatever reasons, use the online forms, can sign FP17s and complete their own medical history forms. It's a great tool all around, find out more about it here.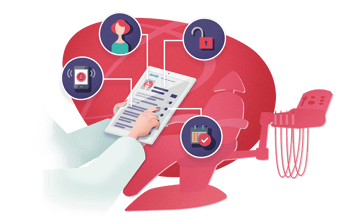 The patient portal brings together all the great features of Dentally for reception staff. By allowing patients to check-in, complete medical history forms, book recalls, and sign treatment plans, reception staff are saved time from admin tasks which they can spend on enhancing your patients' experience in the practice.
We have an extensive range of documents about the patient portal here, which should cover all you ever need to know but if you still have questions about the patient portal or any of the contactless reception features mentioned above, please contact our support team on hello@dentally.co and we will be happy to help.