We all live in a digital world where technology is taking over every aspect of our lives. Here at Dentally we know how important it is to stay relevant and connected with your patients, With Dentally Portal patients can now manage their own oral health online, in their own time. Making dental care more accessible for your patients, whilst also helping to modernise your practice.
Giving patients control of their own dental care allows them to book, cancel, rebook and even sign medical forms, make payments/deposits and keep their details up to date from their own devices. Dentally Portal lets you keep up with the expectations of your patients, which in turn enables you to deliver a successful patient experience.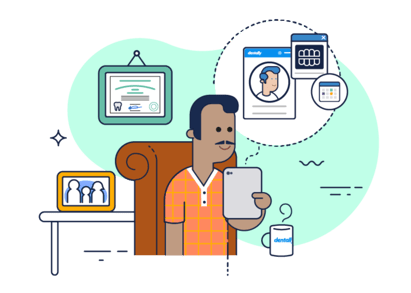 Dentally Portal puts the responsibility back into the patient's hands. Working alongside your already available automated communications within Dentally. For your team, this means no more chasing recalls, no more time-consuming reminder calls and no more worrying about FTA's, as Dentally will allow patients to pay upfront online for their appointments. By utilising Dentally's automated features you get time back what matters most, your patients care and experience throughout their dental journey.
The redesigned interface lets you manage your Dentally Portal efficiently from your already created Dentally level 4 users. Our redesign includes a new functionality which can be used across multi-sites and larger groups of dental practices, this provides the ability to have main admin users that can distribute changes out to each practice listed in their Dentally account. Giving you control over branding, appointments and unique booking links making it easier than ever to maintain communication and branding across all your practices.
Setting up your online appointments via Dentally Portal can now be accomplished from an easy access list. Simply choose the service from the list, and when prompted set your price, length and desired providers. The new Dentally Portal now lets you assign appointments to specific calendar sessions, giving you greater control over your providers diaries.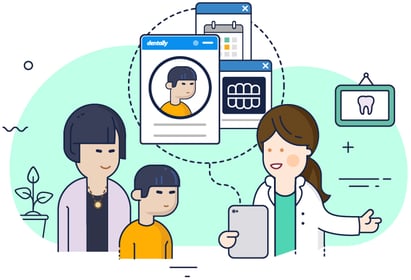 The practice plan section of Dentally portal is another area where we have made some improvements. We will automatically pull through a list of your already active plans in Dentally, for you to set your limitations and discounts against. This now allows you to set monthly fees and banding, Exam and Hygiene limitations and even manage discounts for each plan.
By introducing this customisation, Dentally is providing you with the tools needed to make dentistry accessible online across all your plans, allowing you to provide essential dental care to more patients. When using the Dentally Portal, your patients will create their own accounts that link to the patient record you have for them within Dentally. Ensuring that when a patient assigned to one of your plans tries to book online, it will only allow them to book for what you have set against that plan on your Dentally Portal admin panel.
This new technology has been designed for you and your patients, giving you the tools you need to continue to deliver an excellent patient experience.
Get in touch with us today at hello@dentally.com to find out more about how Dentally Portal can benefit you, your practice and your patient's journey.