How do you carry out dental imaging in your practice? New for 2023, Dentally Vision is providing a new way for you and your team to acquire, manage, and access images and X-rays completely in the cloud.
Charting in Dentally was designed with ease of use in mind. And now, completing this vital stage of your clinical workflow with powerful imaging tooling means that with just a couple of clicks you can acquire an image and save it to the cloud. But why cloud imaging? In today's blog we are going to be diving into the key differences and benefits between cloud and server-based dental imaging software.
Strengthened collaboration
With Dentally Vision, collaboration is simple and effective. Its cloud functionality means images can be viewed remotely or at any of your practice locations, whilst maintaining the highest quality resolution. This makes consulting with other dentists and specialists to make treatment decisions in real time, seamless – allowing you to deliver great patient outcomes, wherever you are.
More cost efficient
Removing the need for costly servers and IT services, all your high quality and full-size images are stored in the cloud without a limit on storage space – all that's needed, as with any Dentally feature, is Google Chrome and a reliable internet connection.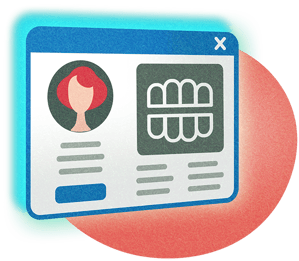 Also, with greater compatibility than most standard software, Dentally Vision supports a wide range of 2D and 3D imaging devices meaning you can continue using what works best for you and your team without having to upgrade or change your working practices.
More secure
With typical server-based dental imaging solutions, backing up images can be time-consuming and cause disruption to your day-to-day workflows. With Dentally Vision, we take care of this for you with small ultra frequent backups which take place in the background of your everyday tasks.
And did you know that using cloud-based software is much safer than hosting your digital imaging on a local computer, laptop or server in a store cupboard?
Security is at the core of Dentally's design, so you can feel rest assured that your data and imaging is always safely encrypted within the cloud.
Seamless clinical workflow
Tightly integrated with Dentally, Dentally Vision allows you to acquire and view images from a patient's file with minimum upload/download time – this means that you can spend more time on what's important, patient care. You can easily see a preview of the image on the chart, or you can see the full gallery - all within Dentally. There is also an indicator on the preview that allows for a quick reference to the age of the image - so you know if you need to take new images.
As well as this, unlike server-based software, Dentally Vision has an offline mode that allows you to capture images on a local device even if your broadband service goes down and then upload the images when connectivity is restored. Just another way we help keep your practice running smoothly.
Experience the full benefits of cloud by arranging a call with our team today and see if Dentally Vision is a match for you and your practice. Click here to book a chat!