At Dentally, from Henry Schein One, we provide you with the latest in cutting edge cloud technology to help you run your practice day to day, plus we also give you access to a customer success programme that you won't find anywhere else!
Customer success at Dentally is more than helping you get the best out of our cloud enabled practice management software. We understand how busy your practice is day-to-day and that patient care always comes first, which can mean that there are aspects of practice management that sometimes slip down the to-do list. So, while we can't wave a magic wand or stop time, what we can do is help you pause and reflect.
Our experienced team works with you to support you, navigate the challenges, grow your business and develop new ideas to help keep your appointment book full, today and in the future.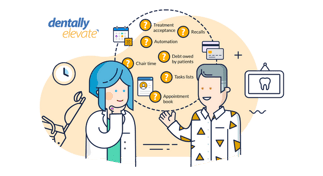 Dentally's Customer Success Programme, Elevate can provide a new perspective, with fresh eyes, we use your own data insights to help you to sustain, adapt and grow your business. Our Elevate programme focuses on several aspects of your dental practice including:
Automating your patient communication
Using the data effectively manage and grow your dental practice
Keeping your appointment book full
Delivering an exceptional patient experience and building loyalty
Improving the efficiency of your surgeries
We are dedicated to helping you to successfully achieve your goals, so we don't just help you get the best out of our software, we also work with you and your team to ensure that every aspect of your practice is running efficiently - whether you have one surgery or more, are opening a new greenfield practice or run an established practice.
We understand that running a dental practice is not an easy task and involves a lot of careful planning to develop and build a thriving business, that delivers great care to the patients within the community you serve.
It can at times be overwhelming to think of the challenges currently facing dental practices - and you will no doubt have many questions to consider including… how to provide care for a huge backlog of patients from COVID-19 lockdowns? how to cope with staff shortages? retain and attract new members to my team? how to I deal with increased utility bills and rising interest rates for my practice? what is the impact of the rising cost of living on the practice? how can i support patients and ensure they continue to prirotise their oral health?
So working in our programme means we will help you start dealing with a few of those important questions, and help you put practical ideas into practice - here are just some examples of questions we have working with our customers on recently:
How will I offset wage inflations and the rise in energy costs?


With my patients also 'feeling the pinch', how can I ensure they see dental care as a priority?


How effective are we at keeping the appointment book filled?


How can I reduce my failed to attend (FTA) rate?


How effective are my recalls?


Do I know how many incomplete treatment plans I have?
We don't just ask the questions, our team will work with you to help tick them off - with solutions that are tailored to your practice. We will provide you with the focus to help you pause and really tackle some of the issues head on.
As part of the programme, we appoint a consultant that will work with you through your journey with us - they will be your trusted advisor and will provide you with guidance and advice whenever you need it, and will offer the biggest applause at your success.
To learn more, email our team today - and see why Dentally from Henry Schein One is the best choice in cloud practice management software for your dental practice.