Here at Dentally we strive to make your daily practice lives simple and seamless. Our latest Medicare bulk bill claims feature makes managing your CDBS claims easier than ever!
Your Medicare bulk bill claims can now be captured, charted and completed all from Dentally, saving you time and ensuring a streamlined process from start to finish. Read our help guide here to learn all about the process and what you need to do in Dentally to ensure the new feature works for you.
Why should I be using the new Medicare feature in Dentally?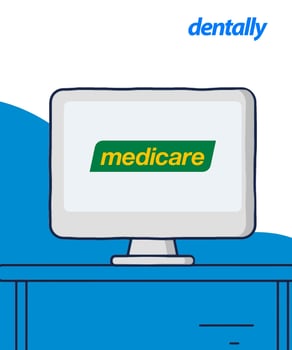 As you know Medicare assists thousands of Australians with the cost of their health care, helping to make dentistry accessible for everyone. When using Dentally you can now manage and send your bulk bill* claims all from one place, making the whole process easier for you are your practice team.
*Bulk bill refers to dental services provided at no cost to patients. Instead, you bill Medicare directly and accept the Medicare rebate as full payment for your service to the patient.
Within Dentally you will now be able to capture card details for your patients and save it against their record. You can even add/link additional family members that are associated to that card, ensuring your records are kept updated.
We know that keeping track of finances is easier when everything is one place, which is why you can now enter and edit the CDBS balance, so you can easily see how much is available for each patient. Our new seamless charging experience makes sending your claims stress free, as they can be bulk billed straight from Dentally using HICAPS.
Learn more about sending your Medicare claims here or reach out to the support team via Live Chat in Dentally.