In our day to day lives, we are increasingly bombarded by 'marketing' noise and messaging as to the best solutions to benefit our day-to-day routines, and for dentistry how to run our dental practice effectively!
Whether that details about the latest chair, PPE, imaging, tools – along with a whole array of software platforms, from finance to marketing to practice management workflows. We all operate in a crowded market, and that leads to the emergence of a few myths – particularly when it comes to the differences between the types of practice management software available and how they can transform your life!
Today, you can choose from a number of traditional on-prem server-based platforms, or cloud hosted or true cloud solutions. So, if you are thinking to yourself, are they really that different, and what advantages will they truly provide your dental practice…then read on…
First, let's look at the simple definitions of each.
On-premise software

Cloud

Cloud hosted
…and then we can dispel a few myths as to how they can really benefit you.
Server based solution
If the solution you are using is 'on-premise' then it is software that is installed, hosted and accessed entirely from a physical server or locally based computer in your dental practice.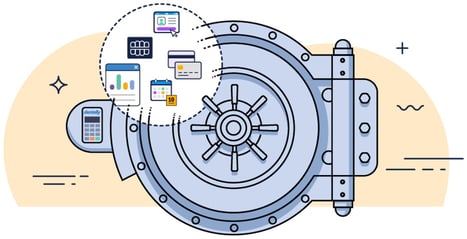 This is a traditional method of hosting your data, and often this solution is only as secure as the lock on the front door of your practice – because all your sensitive patient data is stored on a server or computer located in your premises – even encrypted, this is a risk.
True cloud software
Cloud software uses a network of multiple remote servers hosted on the internet to store, manage and process data, rather than a local server or computer, we often refer to it as multi-tenancy.
There are seven key areas as to why many businesses use cloud technology today from social media platforms to financial institutions to entertainment streaming:
Saves money – eliminates the need for buying expensive hardware and removes maintenance costs.


Scalability – the ability to scale elastically whenever needed.


Performance – the biggest cloud computing services run on a worldwide network of secure data centres, which means that they are using some of the most efficient tech available.


Security – robust policies, technologies and controls are all in place that strengthen the security of your data and protect against potential threats.


Speed – vast amounts of resources can be provisioned to ensure that speed is never an issue.


Productivity – no set up or maintenance required.


Reliability – continuity of service is guaranteed by spreading the way the service is delivered across multiple servers.
True cloud-based solutions (SaaS - software as a service) are born from the cloud from the outset and built up – and in our everyday lives, they are all around us. From keeping us connected with friends and family, streaming our entertainment, navigating our car journeys, and keeping a close eye on our finances. For dentistry, cloud software has been crucial for dental practices, especially during the global pandemic to help overcome the many challenges COVID-19 has presented; from implementing contactless patient journeys, staying connected and overcoming staff shortages.
A true cloud solution can provide you access whenever you need it via multiple devices, it offers speed and resilience across the infrastructure, instantaneous updates and back's up without any interruption to the user.
It is a real-time agile secure resource for multiple users and data storage, that can be easily scaled and integrated with other platforms – this interconnectivity is inherent to this solution, allowing you to really leverage the technology you use in your business.
For your dental practice, true cloud solutions provide:
Security, is at the heart of cloud
Shared infrastructure allows for speed and resilience
Instant updates and automatic back-ups
No downtime for maintenance
Real time views and reporting without delays
Multiple users and devices
Interconnectivity with other platforms to leverage the power of cloud technology
Not all cloud is the same!
To confuse matters not all cloud is created equally! Cloud hosted is a service accessed over the internet, and this is where the similarities end.
The provider of a cloud-hosted system means they provide a resource hosted by a single business or organisation, through a direct private network connection over the internet. Data is stored on a dedicated, private cloud server which is hosted and run from a third-party off-premise datacentre
Subscribing to this type of hosted cloud solution, means the true benefits of the cloud are limited. To begin with, access can often be slower than if you were running on-prem software from your locally stored server in the cupboard! There can also be issues around reliability and performance, as the infrastructure is much smaller and restricted.

The dental practice must maintain and update their own software with hosted cloud solutions, which requires downtime rather than it being automatic and often this can be painfully slow. Cloud-hosted software can be expensive, security and the infrastructure costs are not covered. This negatively impacts the ability to integrate with third parties and upgrades can be costly.
Supporting dental care
Leveraging the power of true cloud solutions for dentistry, like Dentally, has proven transformative, and it is worth taking time to cut through the 'jargon' to really understand the fundamental differences of the practice management software options available to you.
It is important to look for software that not only works for you now but also in the future, because as you grow your technology should scale with you to support your dental practice help you optimise your workflows, fill your appointment book, help your team and stay connected to patients– so you can really benefit from an agile solution that enables you to deliver the best possible dental care.
To learn more about Dentally, look at how cloud is supporting dentistry here or you can book a demo with the team hello@dentally.au