Our Elevate program helps dental practitioners and their teams to run a more effective practice and supports them in delivering exceptional patient care.
We understand running a dental practice is not an easy task, we are here to help, with our team of consultants ready to offer fresh perspectives and share new product knowledge, we will show you how to use Dentally for simpler and easier lives in the long run. Setting up a call with our consultants is super easy, click here to get started
Once booked with your Elevate consultant it's a perfect time to start thinking about what you would like to achieve out of the program.
Are you looking to reduce FTAs and cancellations?

Do you want to increase practice efficiency and streamline your workflows?

Are you looking for ways to reduce staff stress and increase productivity?

Or are you looking to improve your patient's experience?
Having an idea of what you want to achieve, where you want to be and why this is important to you and your practice, will help us with how we are going to get you there! Knowing your goals is only the start of your Elevate journey, so let us help you achieve them.
Elevate can be tailored to your practice needs, so if you are unsure where to start, then take a look here at a few examples of how the program has been used to support sites in the past;
Refining your internal housekeeping and workflow.

Grow your team's knowledge of Dentally to ensure optimised use.

Assisting with building loyalty and trust with your patients for the best experience possible.

Advising on financial management within Dentally.

Recall effectiveness, to ensure a full appointment book with no white space.

Setting up and using automated patient communications.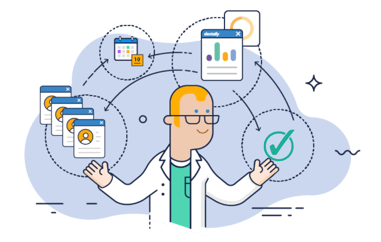 During our calls, we will set achievable goals together whilst we work towards making your goals your reality. We may even suggest bringing other colleagues along for your next call to allow your whole practice to benefit from the program.
Make a difference! Dentally is made with you in mind, and the feedback you provide us through the time you spend with our team could change Dentally. We are always looking for ways to grow and learn, to ensure we are providing you and your practice with the most efficient, useful software and service.
We understand that growing your practice or improving your business, can sound like a lot, but that's what we are here to help with. Your Elevate consultant is always only a phone call or email away. Get in touch with us here to begin your journey.