As the Federal Treasurer announces a tax deduction to those who opt to move toward a more technological way of working, we are here to help and support your move to the cloud.
"Under the federal budget 2022, for the next 12 months, small businesses will be able to claim a $120 tax deduction for every $100 they spend on digital technologies like cloud computing." The cloud offers many benefits and is the ultimate secure way to move away from paper or older on-premise solutions and bring your practice into the modern-day. Now more than ever could be the perfect time for your practice to explore Dentally and leverage the power of the cloud.
From automated communications, quick and easy charting, lightning-fast reporting and two-factor authentication - there exists a whole world of new technologies to explore when you move to the cloud - the best part? Our friendly and helpful support team will be there with you at every step of your onboarding journey, ensuring you have the skills and knowledge you need to utilise the benefits Dentally can offer your practice.
Cloud supporting dentistry
As the Australia Federal Budget 2022 pushes for a shift to a technical approach to how we work - it is worth recognising that cloud technology has been changing the way we not only work but the way we live for several years. From video calls, streaming movies, and so much more - the cloud is a core part of our day to day lives and has effectively been revolutionising the way we carry out dentistry.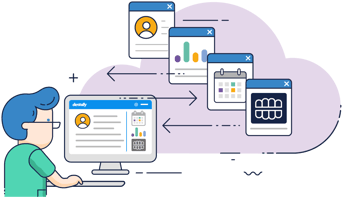 With Dentally, you can be sure that you will see all of the benefits of the cloud transform your practice - streamlining processes, improving work-life balances and saving your business money. Being cloud-based means all you need is a stable internet connection which means you and your team can work from anywhere. Whether that means finishing up patient notes from the comfort of your sofa after a long day in the practice or perhaps switching between sites - we provide software that is as flexible as you - to make your life easier. Read more about the ways the cloud is supporting dentistry every day here.
Security
One of the main areas of concern for people looking to move away from a paper-based and onto a practice management system is worries over the security of keeping patient detail somewhere other than locked away in a filing system. With Dentally, you can rest easy knowing that your patient and practice data couldn't be safer with us.
Security exists at the core of our design - using cloud-based software is far safer than hosting patient files on local computers, drives or on-site filing systems.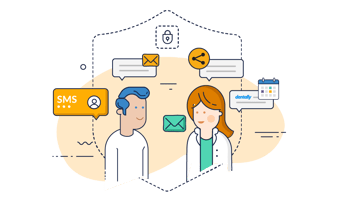 We deliver security to our customers in two parts. Dentally advises you and your practice teams on our privacy methods - we like to ensure you understand how we encrypt your information within Dentally to ensure that you always have complete peace of mind and confidence in our security systems and methods. You can read more about security with Dentally here.
A smooth patient journey
We know that providing the best dental care and service to your patients will be at the top of your priorities. Dentally has made the process easy to manage. From helpful workflows for reception teams to easy charting and automated communications. Dentally provides a streamlined patient journey that allows your patients to feel valued and cared for and increases the returnability of your practice.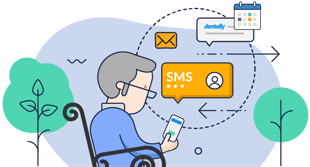 Patients can take control of their journey - self-checking in, signing and completing medical histories and consenting to any necessary paperwork on-site or online before they even enter the practice - taking the stress out of everyday practice life.
Your team can contact your patients with automated patient communications - no patient recalls will get missed, and all practice patients remain up to date with marketing offers and appointment changes.
Dentally is here to support you on your move to the cloud - discover the benefits and see how your practice processes become more agile with us. Take a look at our website to find out more about how we can help you at www.dentally.com.au.