As consumers, we all have a certain level of expectation of customer service; whether it is from a restaurant, retail shop, hair salon, garage, transport provider or supplier of any kind - basically from any establishment we pay for a service.
For dental practices, patient experience is just as important as any other service, and some would argue more as it health related. A good patient experience means patients will feel safe, confident and comfortable in your care and will in turn encourage loyalty. This helps you as a practice to run effective recalls with responsive patients, reduce your failed to attend and short notice cancellation rates, stimulate treatment plan completion, plus it can lead to positive marketing through word of mouth or Google reviews.
Delivering an experience from start to finish can be complex with evolving safety measures to prevent the transmission of COVID-19 and protect both patients and staff - particularly when when dealing with a backlog of patients who need care.
Cloud enabled practice management software, Dentally, from Henry Schein One, provides you with a comprehensive suite of tools that help you to ensure that your patients receive a seamless experience from appointment booking to arrival admin and clinical care, to departure and post visit follow up.
It is important that you have access to the right tools at your fingertips that allow you to prioritise your patient care, to meet the changing demands of patients and deliver an effortless patient journey, both now and in the future.
That's why we developed Dentally Portal which offers your patients a simple seamless contactless journey from start to finish and empowers them to take control of their own oral health. So lets take a take a moment to review how you currently manage your patient's journey through your dental practice, with five key questions:
How does my patient journey work now?
Could it work differently?
Do I provide the same effortless experience for all patients?
Do I help my patients understand the process clearly, and offer a service that is meeting their demands?
How can I increase capacity but retain safety protocols?
Online appointment booking
With these questions (and your answers) in mind, first let's talk about online appointment booking. We know that patients wish to book their appointments at a time to suit them - often during the evening after work or at weekends as they take care of their 'personal life admin', as opposed to during the surgery's opening hours.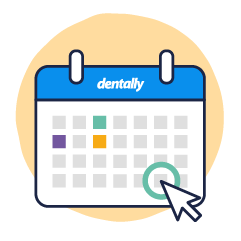 Online appointment booking in the Dentally Portal allows patients to view, book, reschedule, manage and cancel their appointments 24 hours a day, 7 days a week. It works with automatic recalls within Dentally's practice management software and the correspondence can be easily sent with a link for the patient to make their appointment booking. As you continue to work through your backlog of patients, it helps you to fill and optimise your appointment book. The first step in any seamless customer service is providing a simple way for patients to book and access dental care.
Patient Portal
Now let's look at Dentally's Patient Portal. It allows you to manage the patient's journey with your dental practice, starting from before they arrive on site at the practice and helping to develop and importantly retain strong loyal patient relationships. Patients can manage their admin with you in their own time and it is not dependent on your opening hours.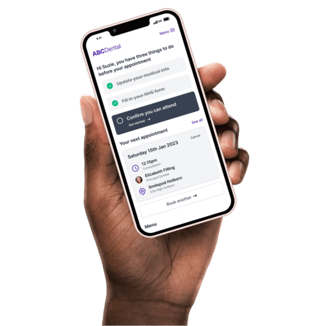 It can be fully customised with your own branding and can be reached by a link sent by email or SMS automation or by easily adding a login section to your website. It provides patients with a completely contactless experience as they can easily and securely log in to manage their medical history, review and sign treatment plans and consent forms, update contact details and pay outstanding balances.
Empowering patients to manage their admin before they arrive on-site, also reduces waiting times in a socially distanced waiting area. It helps the practice team to optimise the number of patients your practitioners can see, and maintain good chair utilisation.
Effortless patient experience
Unlike some of our competitors, Dentally practice management software syncs in real time with Dentally Portal, so you don't have to worry about looking in different places for the information you need, all of the details are always added to the patient record within the software.
At Dentally we appreciate that now more than ever dental practitioners need practice management software that can save time, optimise dental practice processes and provide a seamless patient journey.
If you would like to learn more about how Dentally's cloud-enabled practice management software can work for your dental practice and help you to deliver an effortless patient experience then email our team today or explore our website: https://www.dentally.com.au/