Communication is a powerful tool, at Dentally we have made it easy for you to have multiple ways to stay in touch with your patients. Dentally's 'Christmas Countdown Checklist' will ensure you have made your patients aware of how to access dental care over the coming weeks.
With the festive season just around the corner, Dentally understands that you will have some periods where the practice will close, and your practice team will be taking some well-deserved time off. Use our checklist to help prepare.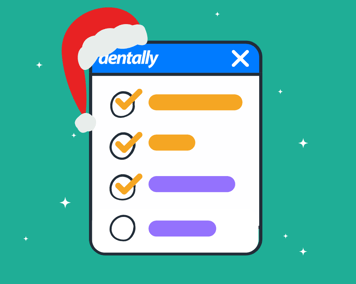 Make sure your patients know when they can access your services.

Communicating opening times over the bank holidays would be classed as important need-to-know information and would not require marketing consent to send to your patients.

Encouraging to book appointments for the new year.

Make sure your patients stay on top of their oral health care and encourage them to get booked in with you ready for the new year.

Where can patients access emergency dental care should you be closed at all over the next month?

- Not everyone will know what to do in an emergency, so providing your patients with this information ahead of time will ensure they know what to do should anything come loose or fall out during Christmas dinner.

Tips to protect teeth over Christmas.

Sweet

, rich foods are often consumed by the double so reminding patients of proper oral care with some quick tips this season could be useful.

Use a bottle opener!

Keep your communications light and easy to read, and humour can often be a great way to become relatable with your patients.
How to send Communications?
To find and contact a full list of your active patients can all be done from within your patients list report in Dentally. You can send bulk communications directly to a pre-filtered list of individuals. We recommend sending an Email and SMS to your patients depending on their preferences to make sure your message reaches as many of your patients as possible.

Take a few moments out of your day to setup a communication too your patients using the guidelines above. We have a full help article with step-by-step instructions on how to do this here.
If you already have an online presence, then keeping your social feeds updated with the above information will also be beneficial. Lots of people are online and with many at home for the holidays, social media will be where people are most active Use this as an opportunity to stay relevant and connected with your patients over the festive period.
If you get stuck or need assistance, please reach out to the support team via live chat for guidance.