If you are a dental practice that has been using a paper based system to manage your practice and patients for a while, then moving to the world of digital may seem like a difficult challenge and a daunting experience for some members of your team.
Today, we live in a digital world using cloud enabled technology for so many things that we may not always be aware of, from booking restaurants, entertainment streaming or keeping in touch with our families during the pandemic. For dentistry, cloud technology is proving transformative and has allowed dental practices to navigate the unprecedented levels of uncertainty and challenges we have faced in recent times. Cloud enabled practice management software has helped dental practitioners to streamline processes, triage patient care, deliver contactless journeys and manage their teams.
Cloud-enabled dental software, like Dentally, provides your dental practice with the digital tools to transform your practice in a simple and effective way - saving you time, keeping costs down, automating your patient communications, managing finances and keeping your appointment book filled.
It can ease the burden of all aspects of your day to day processes and for your team it is easy to use, so the move to digital is seamless.
It is much easier
Dental Nurse Kylie Hansson talks about her experience of moving to Dentally from a previously paper-based system at Doctor Humphrey Dental Surgery in Bellerive. Read her full interview here.
There are a number of benefits that moving to a paperless practice can offer your practice including: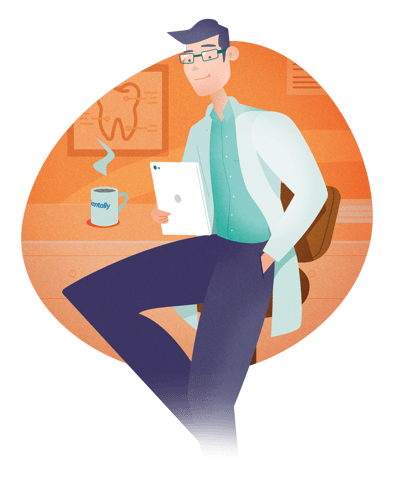 Contactless patient experience

Versatility of working from anywhere

Ease of use

Reduced costs from an IT perspective

Saves time

Automation of communication and recalls

Patient management

Appointment book optimisation
Save money
Dentally's cloud-based software is accessible over the internet, so all you need is the internet or 4G and you can access it and inter-connect with other tools and applications. To use Dentally just download a browser, Google Chrome and login securely using two factor authentication for that added security.
There is no need for expensive, power hungry, complicated and high specification hardware or servers. Plus, no on-site server means greater data security, protecting your practice from data loss as a result of hardware failure or theft.
Happy team
At Dentally, we understand that switching to a digital system from paper can make your staff nervous and we know you want to retain and support them during the process. We work with your team using a collaborative staged approach, assisting in alleviating fears - supporting your team at every step to learn the new system, so they enjoy using it and can see the benefits it provides.
Ease of use is at the heart of the Dentally ethos, and our team is committed to ensuring that every part of our software is simple to use - for all members of your team, whatever their skill set or confidence with IT.
Your future
Moving to Dentally from a paper based system will help you reduce your costs, save valuable time on admin and manage your practice efficiently to deliver the highest standard of patient care with ease. Talk to our team today.