As part of our commitment to provide dental practitioners with software that makes their lives easier, we have recently been focused on improving our perio charting and working with a number of our customers to look at how it works within Dentally to simplify and improve the workflow.
We have changed the look and feel of the exam and have made it fully customisable to the way you wish to work as a clinician. Plus; we have added some new features based on the valuable feedback we have received. Let's take a closer look at some of these changes...
Clear tooth icons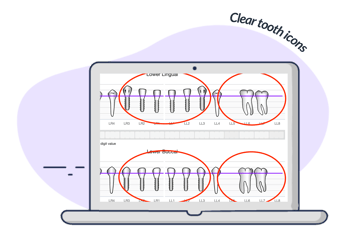 Missing, extracted or unerupted teeth are more clearly depicted on the graphical chart representation of the patient's mouth. This, combined with our upcoming 'Tooth Status' improvements will show a clearer depiction of the patient's dentition, and where a tooth was previously marked as missing, but is now marked as implanted, the implant is shown, and six pocket charting will be possible around the implant.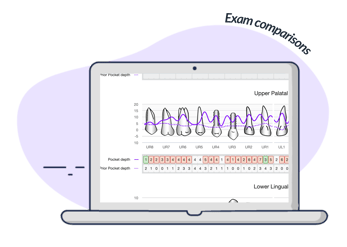 Exam Comparisons
While reviewing a patient's current or prior Perio exam, you can choose to compare this with each of the patient's earlier exams. Improvement or decline in each of the recordings is clearly highlighted, allowing you to show the patient the benefits of their progress or where attention is required.
Workflow Settings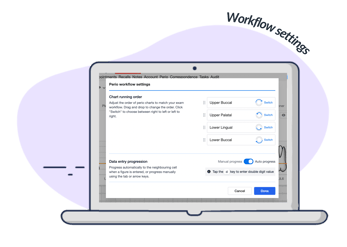 We understand that not all clinicians work the same way. Our new Perio exam allows you to configure the order that you record the exams to suit your workflow. You can change the sequence in which you record each side of each arch and even whether you work from right to left or left to right on each recording.
Based on our user's feedback, we also allow you to choose whether the cursor automatically moves on to the next pocket each time you input a reading, or if you would prefer to move on manually. These preferences are recorded for each user, so every time you record a new exam, they will be remembered for next time.
Easier Reading Entry and Review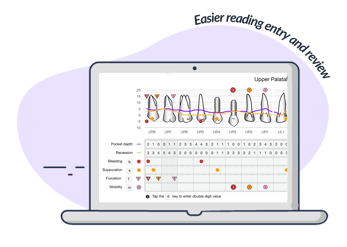 As well as the graphical representation of the perio exam, the table beneath has been expanded to show all types of recordings for each tooth. This means easier review for you as a clinician, but also when educating your patient. You can also record the information using this table when recording a new exam.
If you prefer to click an area to record bleeding, mobility, etc, you can do this as you work around the mouth or at any point in the exam. If you'd prefer to hide certain elements of this table which are not relevant for this exam, you can do this too.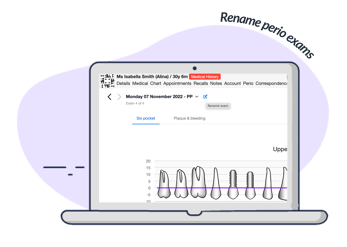 Rename Perio Exams
Comparing and reviewing previous exams is important as part of clinical advice, treatment planning and patient education. To help find the results you wish to review with the patient, you can now rename your exams instead of relying on dates to find key information.
To learn more then take a look at our new support documentation:
https://help.dentally.co/en/articles/3565934-charting-a-perio-exam
https://help.dentally.co/en/articles/6205931-comparing-perio-exams
https://help.dentally.co/en/articles/6404356-adjusting-perio-exam-view
https://help.dentally.co/en/articles/6404493-adjusting-perio-exam-settings
If you have any other questions, then please do not hesitate to reach out to our support team, who will be happy to chat further or if you are new to Dentally and would like to take a closer look at the software to see if it is a good match for your practice, then email us hello@dentally.co