At Dentally we want to make your lives easier and simpler. In today's blog, we are going to look at how our patient experience features can aid you in delivering a smoother, modern and automated patient journey.
Here at Dentally, from Henry Schein One, we know that delivering high-quality patient care is of course top of the priority list, so our innovative tools have been developed with this in mind. We know how frustrating it can be to rely on older manual methods of patient communication. So we have created these tools to help make your lives easier and your patient's journey through the practice smoother than ever before.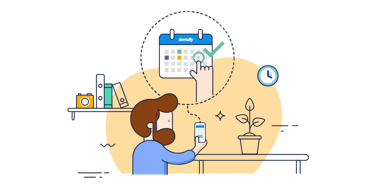 Our fully automated recall and reminder system allows your patient's journey to start off on the right foot. You can easily enable email and SMS communications to send out in set intervals, before the patient's appointment is due. Meaning you and your team can reduce the time spent on the phone chasing patients and can instead let Dentally do the time-consuming work for you, freeing you up to spend more time focusing back on your patients in the chair.
Empower your patients through Dentally Portal, It allows your patients to look after their oral health and offers ways for patients to book their upcoming appointments quickly and easily online. With no need to call the practice, patients can instead book this in their own time from the comfort of their own homes.
Dentally Portal offers so much more than an online booking system, it also allows your patients to fill out their forms and even make payments, or updates to their patient details if needed. Dentally Portal provides a live link between the patients and your team, giving you the most up to date information at all times. In today's technological world patients anticipate and expect smooth experiences, why should your practice be any different?
Dentally Portal facilitates the ability for patients to easily see a full list of services with prices that they can book in for at your practice. You can even take deposits from patients upfront, to help reduce FTA's and cancellations at the practice, in turn saving you money that may otherwise be lost.
Once the appointment has finished the journey doesn't stop there, you can continue to deliver that high level of patient experience by sending automated follow-up communications a set period of time after the patients completed appointment. This gives you the opportunity to ask for feedback and reviews giving your patients the chance to share their journey with your practice.
Those are just a few ways Dentally can help aid you in delivering the best patient experience possible. To find out even more about what we offer and how we can help you, then please reach out to us at
hello@dentally.co
to arrange a chat with our team today.